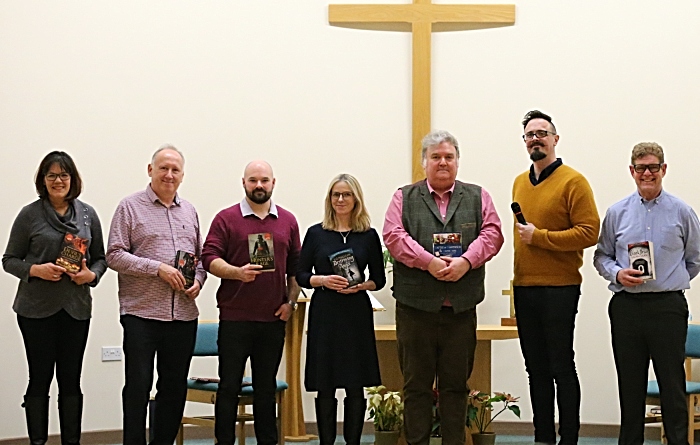 The 6th annual 'Holly Holy Day author event'run by the Nantwich Book Shop & Coffee Lounge proved another big success, writes Jonathan White.
The event, held last night (January 25) at Nantwich Methodist Church, comes on the eve of the annual "Battle of Nantwich" re-enactment in the town.
The 'Holly Holy Day author event' took place on the 375th anniversary of the 'Battle of Nantwich', which occurred during the first English Civil War (1642-1646), on 25th January 1644, between the Parliamentarians (Roundheads) and the Royalists (Cavaliers) who were loyal to Charles I.
The event was compered by journalist and English Civil War re-enactor Michael Molcher.
It featured authors SG MacLean, writer of the 'The Seeker' novels; Charles Singleton, Series Editor of 'Century of the Soldier 1618-1721'; and Mike Arnold, creator of swashbuckling 'The Civil War Chronicles'.
Authors SG MacLean, Mike Arnold and local historical fiction author DW Bradbridge will be available for book signings in the Nantwich Book Shop & Coffee Lounge on High Street in Nantwich today (January 26).
SG MacLean has a PhD in history from Aberdeen University, specialising in 16th and 17th century Scottish history.
She lives in Conon Bridge, Scotland with her husband and four children.
She has written several highly acclaimed historical thrillers set in Scotland. The Seeker is a series set in Oliver Cromwell's London.
Charles Singleton has spent over 30 years engrossed in the age of Pike and Shot warfare and the British Civil Wars.
He has taught and researched the period extensively and regularly visits the sites linked to the events of the 17th century.
Working as a museum and heritage professional, Charles is married and lives with his wife Helen and two Jack Russells on the edge of the Welsh Marches.
Michael Arnold lives in Petersfield, Hampshire with his wife and children.
After childhood holidays spent visiting castles and battlefields, he developed a lifelong fascination with the Civil Wars.
Steve Lawson, Nantwich Book Shop & Coffee Lounge, said: "Thank you to the three authors for coming to Nantwich to talk about their books on the anniversary of the Battle of Nantwich.
"We are really excited to return to the Methodist Church for the Holly Holy Day author interviews."
For further information relating to books written by the authors please contact Nantwich Bookshop & Coffee Lounge via phone 01270 611665, or email [email protected]