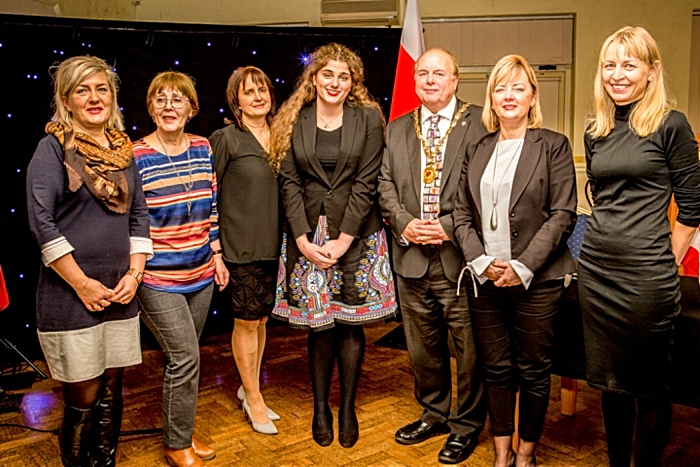 A five-person delegation from Dzierzoniow in Poland visited Nantwich to formalise the Friendship Agreement between the two towns.
The agreement was first put in place by the demised Crewe and Nantwich Borough Council back in 2005.
Mayor of Nantwich Cllr David Marren said: "I am delighted our friends from Dzierzoniow are here because we agreed as a Town Council to formalise our friendship agreement back in March 2016 so we needed to follow that through because friendship agreements have relevance.
"The world is a fast changing and very difficult place.
"Twinning agreements or friendship agreements, whatever you like to call them, have their origins in the rebuilding of Europe after the Second World War.
"They were one of the important mechanisms for breaking down barriers between people, where barriers were and still are, created through not sharing a common language.
"Our agreement aims to develop cultural, educational, sporting and recreational links for mutual benefit particularly through exchange visits and tourism and I know through my own experience that It will give young and old an opportunity to share ideas, views, experiences and to build new connections and friendships."
Dorota Pieszczuch, Deputy Mayor of Dzierzoniow, said: "We have really appreciated our invitation to Nantwich and have been captivated by the town's beauty and character.
"I am so pleased we saw the re-enactment of the Battle of Nantwich, it was wonderful.
"In the spirit of partnering, I cordially invite citizens of Nantwich to visit us in Dzierzoniow where you will be warmly welcomed with affection.
"I would love to see Nantwich businesses displaying at our May Trade Exhibition called "Dzierzoniow Days and also in August at our Honey Harvest Fair.
"Mayor David Marren and I are also very committed to developing pen friending opportunities for young people and this is a project we will be taking forward together over the coming years."
(Top, L to right: Aneta Błaszczuk, Alicja Mikulska , Iwona Matyja (Dzierzoniow twinning association members) Phoebe Crewe (A local South Cheshire College Student who sang pre-signing), Mayor David Marren, Deputy Mayor Dzierzoniow Mrs Dorota Pieszczuch, Anna Ogrodowicz Head of Marketing and Promotion in Dzierzoniow)