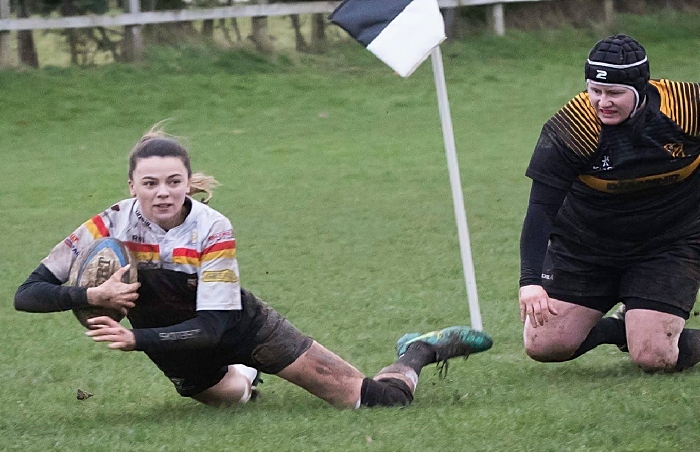 Crewe and Nantwich Ladies weathered an early storm to come from behind and beat a physical Leigh team 32-12 in the National Challenge 1 North West League.
With a challenging run of fixtures, Crewe shuffled the team and rested some key players against Leigh, a team they had beaten heavily away from home earlier in the season.
But Leigh had clearly been working hard and created some early pressure from kick-off.
They hit the home side around the breakdown and made it extremely challenging for Crewe to retain possession and gain territory.
After several strong drives around the fringes, Leigh broke the deadlock to score a converted try under the posts.
With Leigh's main attacking threat coming from their big pack, Crewe opted to vary the point of attack and look to bring the backs into play.
Samantha Lawson and Cherie Davies combined well with Mollie Latham to create space for the backs, with Phoebe Jay and Lauren Forster linking to release Mary Shepperson who very nearly broke a covering tackle to score from inside the Crewe half.
A period of sustained pressure eventually led to a well-worked try from Jordan Morris, converted by Nikki Laurence.
Although Crewe scored again soon afterwards through Shepperson, repeated stoppages prevented them from playing fluently and although Leigh didn't threaten the Crewe line, the physical contest at the breakdown slowed the game down.
Tactical changes just before half-time brought additional power to the game, with Debs Sayer and Louise Reade steadying the scrum with Phoebe Jay touching down to take the score to 17-7.
The second half saw Crewe ramping up the tempo.
India Perris-Redding and Katie Heirene linked well with the outside backs and Christine Lawson and Jodie Hind made a number of half-breaks.
A good running line from Vicky Irwin set up field position for Jordan Morris to score from close range, with Jay adding a second.
Zoe Baldock added the bonus point score after some fluent handling from a Crewe penalty in the corner.
Leigh had two scoring chances, one drawing an incredible tackle from Ellie Brightwell, and managed to convert one as Crewe made positional changes towards the end of the game.
The win maintains Crewe's 11 point lead at the top of the table and are one win away from securing the league title.
Coach Matt Baty said: "Leigh are a very tough and challenging team to play against and the game did boil over at times from both sides.
"We kept our discipline fairly well and upped the tempo effectively which enabled us to take control of the game, so I'm happy with the decision-making and the fitness of the players."
Captain Lucy Goose added: "It was a very hard game on a freezing cold day and Leigh really stopped us from playing our game at times.
"I'm very proud of the way we reacted. We are learning to be patient and know when to attack and when to defend and this felt like a step forward for us.
"I'm particularly pleased with the performance of some players in their first starts for the team."
Crewe and Nantwich Ladies play Southport Ladies in the junior plate competition on Sunday (February 10) at Southport.
(pic by Sue Ridout)