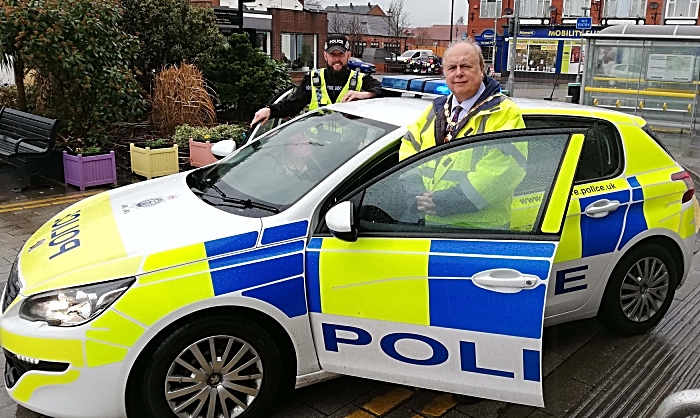 The Mayor of Nantwich has praised local police officers and their approach to preventing crime in the town.
It comes after Cllr David Marren joined them on patrol for a day and witnessed the underlying issues Nantwich faces, including drug dealing, theft, anti-social behaviour and isolation.
Cllr Marren swapped his red and gold robes for a high-vis jacket to spend some time with Nantwich Community Police Officers Matt Stonier and Marc Harley.
He said: "We visited a few properties where vulnerable individuals lived.
"It was clear from what I saw that they are at risk of abuse and exploitation by virtue of their weakened condition, problematic lifestyle and social isolation.
"Some of these vulnerable people are targeted and befriended and their properties used as a base for drug dealing, theft and other anti-social behaviour and these so-called friends are very difficult to shake off.
"Frequent friendly visits from Community Police Officers where they just go to chat, sort out a problem or just make a cup of tea deters the exploiter from visiting and is bound to thwart some crime and help keep that vulnerable individual safer.
"I want to thank Matt and Marc for putting up with me but mainly for opening my eyes as to what they do. It was educational!"
PC Matt Stonier said: "Marc and myself are Community Police Officers.
"That is about having a long term and consistent presence in the town so residents feel comfortable around us.
"We work with other agencies, like the council and housing associations and voluntary groups to develop effective community based partnerships to try and resolve problems long before they erupt into enforcement issues.
"The idea supports crime prevention strategies."
Both officers are regular attenders at Nantwich Town Council meetings where PC Harley recently spoke about the work of a local speed watch group.
"I remember informing councillors of the need for more volunteers from the public and the Mayor was quick to volunteer his service," he added.
"I reminded him of that offer when we got together for our patrol and to be fair he was up for being trained and he now is, and certificated.
"I'm sure we'll have him out and about on the streets soon."