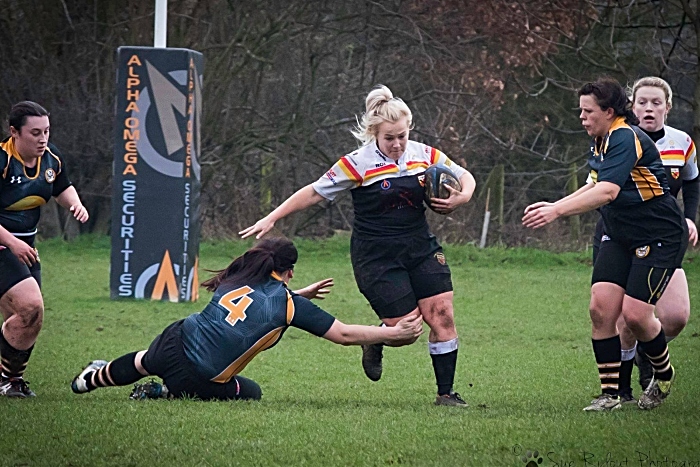 Crewe and Nantwich Ladies crashed to their first league defeat of the season in a bruising encounter against Vagabond Ladies.
The Isle of Man side have a well-founded reputation for being a challenging team to beat away from home.
And they put the Crewe side under immediate pressure in horrendous weather conditions from kick off.
Vagabond enjoyed early ascendency in the scrum to put the Crewe back row under pressure, carrying hard into the Crewe midfield.
Despite a fine defensive display from Lauren Vipond, Vicky Irwin and Christine Lawson in the loose, ultimately Crewe ran out of bodies as Vagabond scored a well-worked try with 20 minutes played.
The introduction of Nikki Laurence to 10 to shore up the midfield channels made some impact.
And Chelsea Hobbs' introduction to the front-row steadied up the scrum.
But Crewe struggled to find their usual fluency, weather conditions contributing to a number of knock-ons and turn overs as Vagabond played well to challenge the Crewe attacking platform.
Mary Shepperson and Millie Jones managed to gain some ground with half-breaks.
Vagabond scored a penalty kick with 10 minutes to play to increase their lead.
Crewe worked hard to get back into the game, playing into a 45mph headwind, and Vagabond's captain kicked well for territory, penning Crewe into their own half as the clock ran down.
It was a good performance for both teams and Crewe will benefit from learning from the game.
Coach Matt Baty said: "Playing in those conditions is always a big test – it is quite literally a game of two halves when the wind is blowing the way it was.
"Clearly, it's not great losing the unbeaten streak but it'll be a valuable reference point as we build to a Plate Semi-Final against Sefton in two weeks."
Captain India Perris-Redding said: "It was a very, very hard game in atrocious conditions.
"Vagabond certainly put in a strong performance and we struggled to gain any control over the game for too long.
"I'm proud of the way we fronted up, and taking 20 players to the Isle of Man is a massive plus for us; historically this has been a real challenge for us."
Crewe and Nantwich Ladies play Kendal Wasps Ladies at Crewe Vagrants on March 17, 2pm kick off.