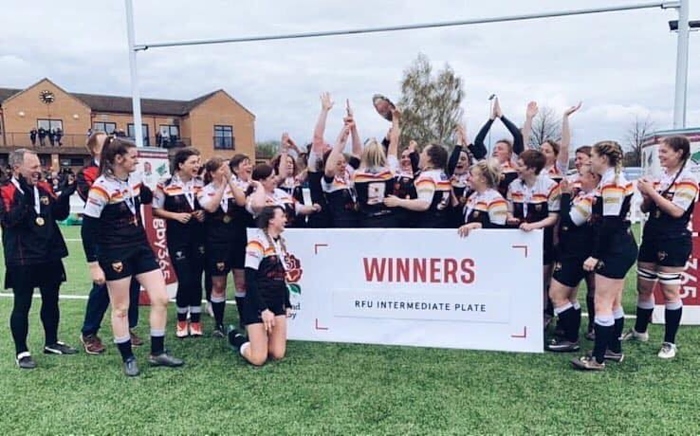 Crewe and Nantwich RUFC Ladies completed an incredible league and plate double with a resounding 55-19 victory against a skilful and competitive Plymouth Albion side at Derby RUFC.
The ladies, runners-up in the same competition last season, put in a high-quality performance to win the title, capping an exceptional run of results this season.
Plymouth Albion finished fourth in a higher league earlier in the season and demonstrated considerable skill and determination in the game.
But Crewe's pace and intensity won it, with Mollie Latham putting in one of her performances of the season, repeatedly getting over the gain line to give space to the outside backs.
Vicky Irwin opened the scoring on 5 minutes after combining well with Nikki Laurence and India Perris-Redding and went on to score a first half hat-trick of tries in a personal tally of 5 scores in the game.
Phoebe Jay and Ellie Brightwell dominated in defence, repeatedly stopping Plymouth's strong running backs from getting into the game.
Plymouth found an opportunity to score an excellent try through the right wing before half-time.
And they used their well drilled line-outs and driving mauls to good effect, scoring a good second try from a series of forward drives.
But Crewe's ability to move the ball in contact and link with support runners proved too much for the Devonshire side.
The second half saw tries from Irwin, a second score from captain India Perris-Redding, taking her tally to 30 for the season, Lauren Vipond and Katie Heirene.
In a brutally physical match, Crewe's bench came into their own.
Kayla Hughes, one of the season's breakthrough players added energy and bite.
Jodie Hind made her presence felt with big tackles and very nearly a long-range try of her own from a midfield break, linking with Vicky Irwin.
Plymouth did briefly threaten a resurgence through a series of rolling mauls, but in the end turnovers by Latham and Lawson coupled with important tackles from Perris-Redding and Ellie
Brightwell gave Crewe further opportunities to break-away.
Katie Heirene finished off a long run from Latham, Irwin getting on the end of an incredible pass from Phoebe Jay against the run of play, and Vipond finishing off another series of off-loads following a line break from Nikki Laurence.
Plymouth did manage a consolation score on the final whistle.
Crewe, in winning both league and plate, amassed an incredible 142 tries and lost just two matches.
They will compete in the Championship 2 league next season in the 3rd tier of women's rugby.
Captain Perris-Redding said: "I'm overwhelmed by the result.
"We had close to 100 supporters on the sidelines, including the junior girls' section, ex-players, friends and family and I couldn't have asked more from the players in an excellent team performance.
"It's been a long, hard and emotional season for us all and to win both the League and the Plate is a culmination of so much hard work from all.
"There aren't words to convey how happy and proud I am to have been a part of it."
Club Chair Nicola Joyce said: "I've had to wear two hats this season, player and club chair and both have been incredibly rewarding.
"The ladies' section has been an ongoing success story for the club.
"And to see the future generation of players watching us and seeing us win two competitions this year is just amazing. I'm thrilled and delighted!"
Coach Paul Davis said: "I'm so proud of the squad.
"The coaching team have asked a lot of them all season both in terms of their physical commitment, and with buying into our team culture along the way and they have delivered
in a big way.
"To see players like Zoe Baldock and Kayla Hughes play a major part in the season from no prior rugby experience proves that the way are approaching coaching the squad is working.
"Next season will be another challenge, but after performances like today we have every right to feel happy with where we are."
The men's 1sts finished their league season with a convincing home victory against Walsall which sees them finish in the top half of the table.
They are playing in the Cheshire Bowl Final at Winnington Park this weekend.