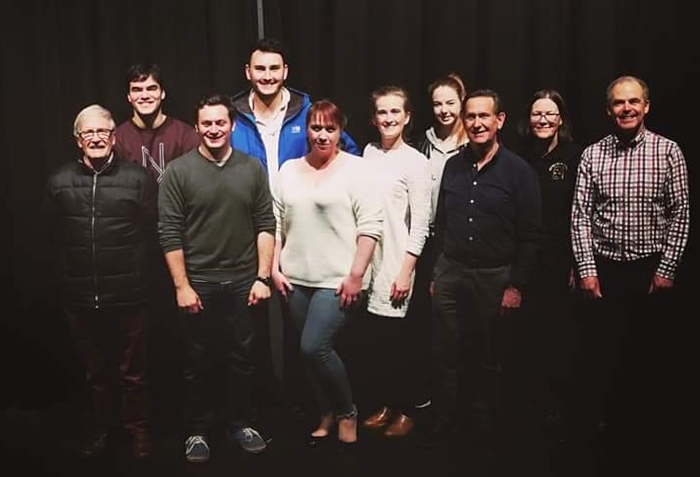 Nantwich Players have clinched a place in the national All England Theatre Festival final after winning the Northern regional award.
The Players hosted the first Cheshire One Act Drama Festival organised by Bev Clarke and Sue Doherty earlier this year.
The six-month long competition is organised regionally, and after a series of preliminary, quarter and semi-final rounds across the country, the grand final will see four 'area' champions compete for the title of English Champions.
Nantwich Players' entry 'Edgar and Annabel' by Sam Holcroft won four awards including Best Actor – Harry Johnson for his Leading role of Nick; Best Actress – Bethany Froud for her leading role of Marianne; Best Production – Edgar and Annabel; and The AETF Trophy as the overall winner of the festival and moving forward to the semi-finals in Sunderland.
The Northern Competition took place on May 4-5 at the Washington Arts Centre and Nantwich Players were announced the winners, along with Bethany Froud winning the award for Best Actress for her leading role of Marianne in the play.
Nantwich Players now move forward to the All England Final in Maidenhead on June 8 as Northern champions to compete against three other Area champions in a bid to become the All England Champions.
A representative of the Studio Team said: "We are so thrilled to have got to this stage of the competition, we really did have to fight off some serious competition.
"It is a testament to the talent and hard work of all the team involved, not just the actors but everyone who has helped make this fantastic play such a great success.
"The work that goes into these plays from everyone both on and off stage is unbelievable and it really is a team effort.
"We are very proud to be representing the North of England in the Finals and look forward to the competition next month."
Meanwhile, Nantwich Players have announced their final Studio production of the season, 'The River' by Jez Butterworth. This play is an intensely allusive, non-linear psychodrama which will find you completely engaged and touched by the end.
The River received its Broadway premiere at Broadway's Circle in the Square Theatre on November 16 2014 in a production directed by Ian Rickson.
Running from Friday May 31 to Sunday June 2 at 7.45pm at the Players Theatre on Love Lane, Nantwich.
Tickets are £7 and will be available from May 14 2019. Telephone bookings on 01270 600727.
Online booking at www.nantwichtowncouncil.gov.uk
(£1 per ticket NTC booking fee applies for internet bookings)