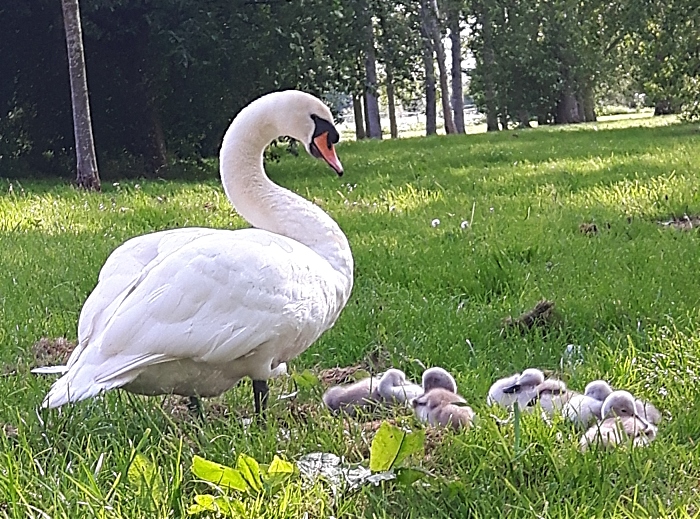 This beautiful swan and her new family are proving a real attraction for people out and about in Nantwich!
Captured by this stunning photo by Laura Hockenhull, the swan recently had what is believed to be six cygnets hatch on the banks of the River Weaver.
Laura took this picture as it tended to its young by Nantwich Pool close to the footpath before the bridge heading towards Reasheath.
Other amateur snappers have also been taking pictures of it on Mill Island and other various spots around the River Weaver.
And even our local bobbies on the beat paused to take in a fine scene of nature with the swan and family!
Swans usually breed in early or mid-March but most nests don't get underway until April.
Eggs are laid at two-day intervals from mid-March onwards.
According to the RSPB, the female lays up to seven eggs between late April and early May.
Both sexes incubate the eggs, which hatch after 35-41 days. So the Nantwich family laid their eggs a little earlier than normal!
Cygnets can often by seen riding on their parents' backs and remain with the adult birds for four or five months.
Unfortunately, some cygnets often die or are killed early in their lives.
They are mainly lost to crows, herons, magpies, turtles, pike and large perch.
Both cygnets and full-grown swans are also the prey of foxes and mink.