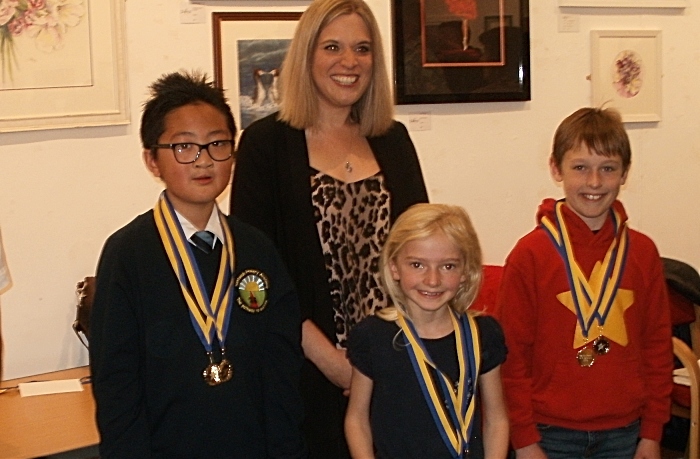 The winners of the Nantwich Rotary Art & Handwriting competition have picked up their prizes from local MP Laura Smith.
The young winners gathered at Nantwich Museum for the 11th Rotary Club of Nantwich Primary Schools Art and Handwriting Competition.
Ten local primary schools submitted more than 900 entries competing for total prize money of £500.
The theme for the competition was "Things to see and do in Cheshire", which was interpreted in many different and creative ways by the children.
Judges were local artist and architect Martin Greenwood and calligraphy expert Frances Passmore who had the tough challenge of choosing the winners.
Thirty pupils were awarded Silver medals for producing the best entries on behalf of their schools.
Pupils, parents and teachers then waited with baited breath to find who had won the prizes for best overall entry in each competition category.
The gifted winners were awarded their prizes as follows:
Gold Medal Winners (£25 gift voucher plus a gold medal each)
Florence Meredith-Hollings Key Stage 1 Art
George Evans Key Stage 2 Art
Millie Young Key Stage 1 Handwriting
Vincent Tang Key Stage 2 Handwriting
The award for the school judged to have the highest overall standard of entries was split between Stapeley Broad Lane and Pear Tree Primary.
School representatives received cheques for £100 for each school which will be used to further enhance the school's facilities.
Rotarian Ashley Weaver said: "This year is the 11th anniversary of the competition and I am glad to see that it continues to benefit from so much local talent.
"Many congratulations to all our wonderful winners and our sincere thanks to our generous sponsors – the William Hodgkin Trust."
A selection of the children's work will be on display in the museum on Pillory Street until June 8.
(Pic: Laura Smith MP with three gold medal winners)