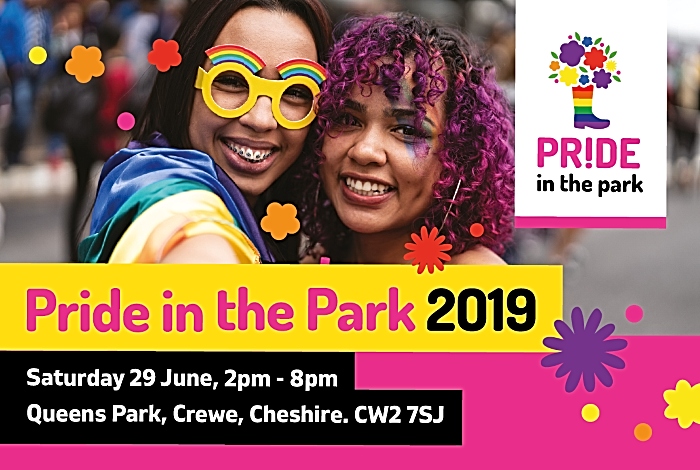 Visitors to this year's Pride in the Park in South Cheshire will be able to use free transport to and from the event.
The service, provided by Cheshire East Council's Transport Service Solutions company, will offer free buses from both Cheshire College South and West and Crewe train station into Queens Park, Crewe.
It will run every 20 minutes starting from 1pm on Saturday June 29.
The final shuttle bus will transport guests out of the park at 8.35pm, following the event's conclusion at 8pm.
Pride in the Park takes place from 2pm on June 29 and promises to be bigger than last year, with entertainment and performances available throughout the day.
Headline acts this year include Britain's Got Talent's 'Bosom Buddies' and the Abba Twins, with 'Confide in Kylie' headlining one of the biggest LGBTQ+ events to come to Cheshire East.
BBC radio presenter and songwriter Claire Mooney will also be hosting the event.
In addition to performances and entertainment, visitors will receive information and support from a dedicated health and wellbeing zone for all guests.
Representatives from Body Positive, Utopia, Silver Rainbows, the NHS, Rape Support Centre, Healthwatch, Cheshire police, youth support service and many more will be available on the day.
Crucially, the presence of these organisations will offer an opportunity for both the LGBTQ+ community, and wider public, to receive support and advice and talk to professionals first-hand.
This includes those who may be struggling to identify their own sexuality or identity and require professional guidance and support.
This year Pride in the Park will also be offering 'Mobiloo' for disabled guests, a pop-up changing places facility, making the event fully accessible for disabled visitors.
Kath O'Dwyer, acting chief executive at Cheshire East Council, said: "I'm delighted that, with the support of our partners, we're able to make it even easier for visitors to join in with the celebrations on Saturday 29 June.
"Pride in the Park is looking to be a fantastic event once again, and the free transport that we are able to provide will make Queens Park even more accessible for guests.
"Alongside the vital professional support that will be provided for the LGBTQ+ community in our health and wellbeing zone, there's so many fantastic performers we have lined up on the day. It's going to be one to remember!"
To view the full shuttle bus timetable visit: http://www.prideinthepark.com/wp-content/uploads/2019/05/pride-in-the-park-2019-shuttle-bus-timetable.pdf or register your interest in attending on Eventbrite: https://www.eventbrite.co.uk/e/pride-in-the-park-2019-tickets-59104338668