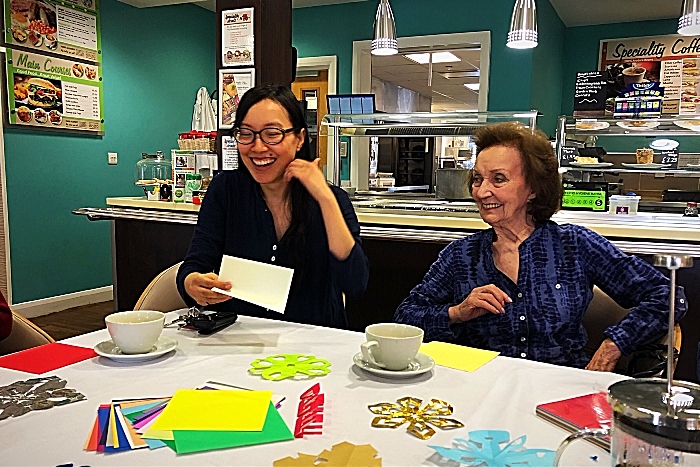 London artist and filmmaker Suki Chan has completed a month-long residency at a South Cheshire dementia care village to help put together her latest art project.
Suki, whose work has been showcased worldwide from China to USA, spent the last month at Belong Crewe.
She wanted her experience to inform her new multimedia art installation, which will demonstrate the impact of dementia on individuals and families.
Her project, called "Conscious", is being backed by Arts Council England.
It will use key insights into dementia, from interviews with staff, residents and their families at Belong Crewe, to explore the concepts of memory and consciousness.
And this will provide material for an immersive film installation, to be premiered at Liverpool's centre for the contemporary arts, Bluecoat.
It will also embark on a national and international tour, including a screening at the Artscience Museum in Singapore.
Suki said: "It's been a pleasure to get to know everyone at Belong and to share my skills and experience with them, through film, tea parties and arts and crafts workshops.
"The residency has given me a deeper understanding of dementia and by portraying this through my artwork, I hope to create a positive impact on research in this area, raise awareness and encourage great empathy for all those involved."
Suki's residency forms part of the care operator's three-year research project with Bluecoat, which explores how the arts can improve the lives of those with dementia.
Belong Deputy Chief Executive Tracy Paine said: "This is a truly groundbreaking project.
"We are thrilled to be working with Bluecoat to explore how the arts can enhance the lives of those with dementia.
"Suki's residency has left many of our residents feeling more engaged, focused and happy and we are confident it will make a real contribution to best practice in this area.
"We are all looking forward to seeing the final piece of artwork on display."
The outcomes of the artist residences at Belong Crewe, including the work of Alan Dunn, Roger Hill, Philip Jeck, Brigitte Jurack and Mary Prestidge, will be showcased at the village in an art celebration later this month.