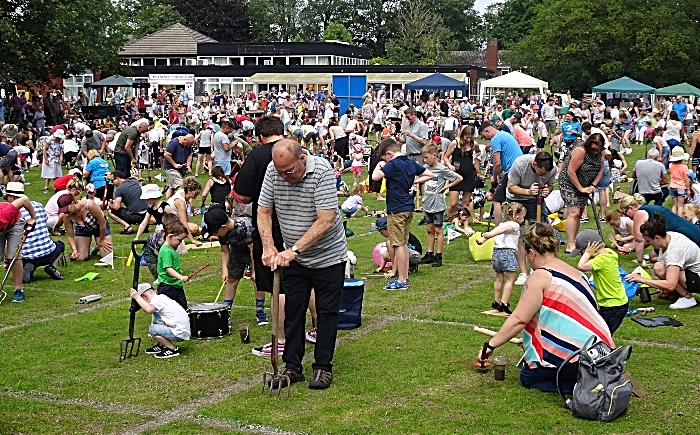 Hundreds took part in this year's World Worm Charming Championship in Willaston as it wiggled its way to four decades of success, writes Jonathan White.
The 40th World Worm Charming Championships took place in the grounds of Willaston Primary Academy yesterday (June 29).
And Sam and Ollie Dobson took home the Most Worms championship trophy after coaxing out 64 of the wrigglers in their 3x3m plot.
Heaviest Worm trophy was won by Daniel Summers and his five nephews (Tyler, Jake, Charlie, William, Elliot) from Crewe with a worm that weighed a new official world record of 8 grams.
The championship also included representatives from USA, Philippines, Spain, along with Isle of Man Worm Charming Champions Jackie and Adrian Darbyshire.
A special honour was awarded to Mike Forster, event organiser and chief wormer of Britain for the past 40 years, who hinted he could be retiring from his role this year.
Mike thanked Friends of Willaston School Association – PTA, Willaston Primary Academy staff, other volunteers and visitors for their continued support of the event.
The Chief Wormer's trophy was given to International Federation of Charming Worms and Allied Pastimes (IFCWAP) co-founder and former Willaston Primary School headteacher Gordon Farr for services to worm charming since 1980.
The Championships was founded as a community project to raise funds for the school by Mr Farr, John Bailey (former Deputy headteacher of Willaston Primary School), and Mike Forster (former Willaston Village Police officer).
This year, the countdown was performed by special guest Danny Higginbotham, former Manchester United and Stoke City footballer.
Participants in each of the 144 plots had 30 minutes to charm and collect as many worms as possible from their 3×3 metre plot.
There were 'traditional' plots for two adults and two children and 'tag-team' plots for teams who wished to change their pairings throughout the charming period.
This year hard ground made for tough conditions.
Techniques to agitate the soil included the traditional method of vibrating a garden fork, along with alternative methods such as skipping on the spot, playing a clarinet, whacking a golf club and bouncing a football.
Chris White, from Wistaston, dressed alternately as a blackbird and an earthworm.
He also sang and performed on his ukulele to entice worms with 'There's A Worm At The Bottom Of The Garden', 'The Worm', 'Green, Green Grass of Home', and 'Good Vibrations'.
Whilst awaiting the results of the worm count, there were events in the playground and arena including performances from Co-operative wind bands (Crewe) and Apex Cheer cheerleading team, and singing from the Willaston Primary Academy Choir.
The arena and adjacent areas were surrounded by charity stalls, zorbing, an inflatable slide, bouncy castle and food and drink outlets.
Charities represented included Cystic Fibrosis Trust, Little Bea's bell tent hire, The Little White Tuk Tuks wedding transport service, South West Cheshire eurojam 2020 Poland, My Candy Cloud, hope house, Willaston Pre-School, Central Cheshire Buddy Scheme, and Railtrack Rail Safe.
There was also a grand draw raffle and a scavenger hunt.
The main sponsor of the event was Bristol Street Motors.