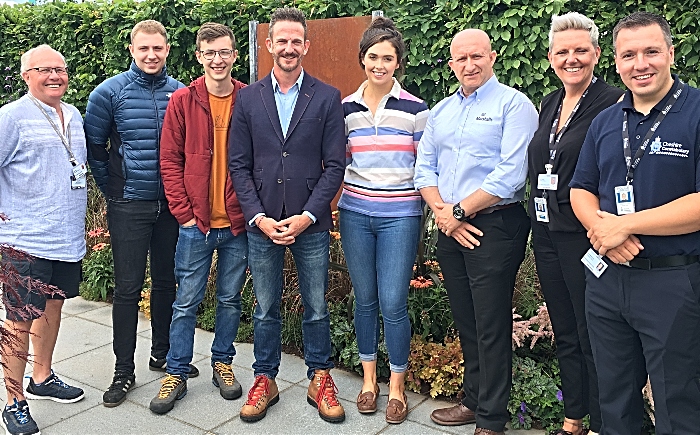 A 'Cyber Crime' show garden designed and built by Reaseheath students in Nantwich was sowing the seeds of online safety to visitors at the RHS Flower Show Tatton Park.
The garden, commissioned by Cheshire Police and sponsored by Barclays, highlights the importance of staying safe online and features the Constabulary's 5Cs (Create, Cover, Confidentiality, Click, Connect) Guide to Online Safety.
It has been awarded a silver medal and featured in the BBC's coverage of the flower show on Thursday, with presenter Adam Frost describing the planting as 'inspiring' and 'full of ideas to take home'.
Cyber crime accounts for 48% of all recorded crime and is one of the fastest growing crimes in the UK.
The planting in the garden reflects this, with lighter shades showing the steps people need to take to avoid falling victim to cyber crime and the darker shades depicting the criminal aspect.
Each of the 5C icons is depicted on a bespoke weathered steel panel and the flowers and foliage are selected to reflect and enhance each of the 5C icon colours.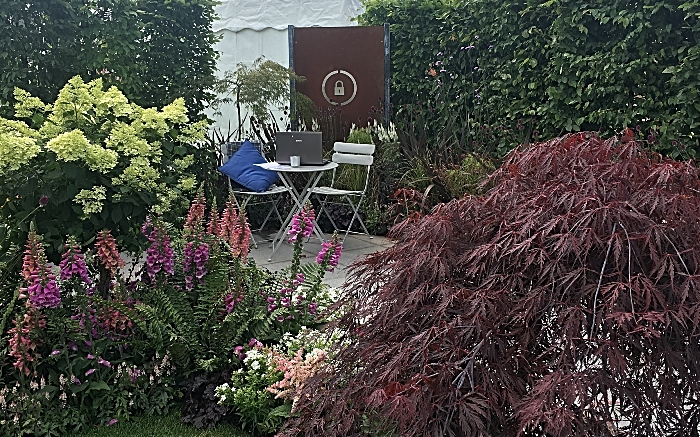 The design and build team of Jake Jackson, Katie Monton, Nathan Webster and Brad Howarth, led by Steve Williams, course manager in Landscape Design and Construction, also won silver last year at the prestigious flower show.
Jake said: "Building a show garden for RHS Tatton is a unique experience and a very special opportunity which I don't think we'd get anywhere else other than at University Centre Reaseheath.
"It's the hands-on experience which stands out for me, and meeting and working with a real client to a brief.
"You can't learn that in a class room."
The show garden is also supported by Marshalls and Wright Landscapes.
The five steps to staying safe online can be viewed here www.cheshire.police.uk/5Cs
Other Reaseheath successes at RHS Tatton included a gold medal in the Flower School for former Level 3 Diploma in Floristry student Adi Thomas, Director of Verdure Floral Design.
There was also a silver medal and Best Construction Award for Reaseheath trained designers Jane Bingham and Penny Hearn for their 'Lets Go Fly a Kite' garden commemorating the Children Today Charitable Trust's 25th anniversary.
The garden tells the story of the challenges faced by those that Children Today supports and celebrates the charity's success in enabling independence and transforming the lives of children with disabilities.
And there was a silver medal in the Floral Marquee for former National Diploma in Commercial Plant Production student Matt Wood, whose successful web based business The Tiny Plant Company grows and sells miniature versions of garden favourites.