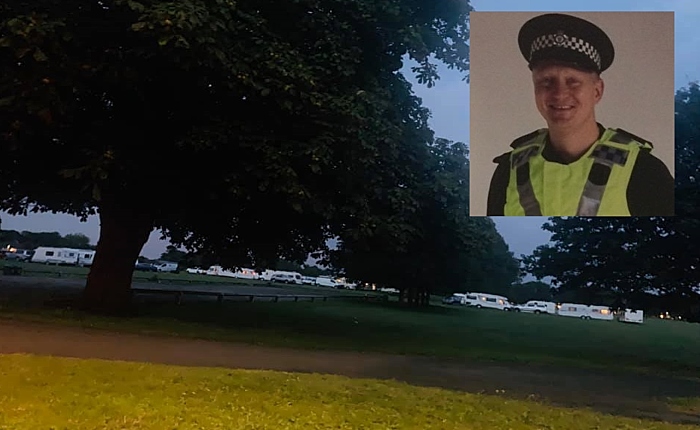 A Crewe and Nantwich police chief said he has "sympathy" for residents suffering from unauthorised traveller encampments in the towns.
But Chief Inspector Simon Newell added that the police's hands were largely tied.
He also believes residents tend to "exaggerate" incidents because of ongoing "negativity" towards travellers.
In an interview with Nantwich News, the Commander of Crewe LPU hit back at accusations the police treat the travelling community any differently to members of the public who reside in the town.
But he also said limited and ongoing cuts to policing resources were making it more difficult to respond.
"We treat everyone the same. We will not discriminate and try and be as fair as possible to all parties," he said.
"It is a very emotive subject, especially in Nantwich.
"We have to try and balance our responses with needs and views of local residents, but equally understand and cater for the welfare of the travelling community.
"There is a lack of understanding as to what police can and can't do.
"At the moment, we have no where to move travellers to. We receive a lot of calls each time it happens, but it's the responsibility of the local authority Cheshire East Council to move them on in the first instance.
"Question is what can we do in the short term, medium term and long term."
Chief Insp Newell said they were trying to provide a "visible policing presence" to reassure the community and respond to incidents.
"But what we find is, because of the negativity of community towards the travellers, they tend to exaggerate what they are reporting when there is no evidence of it," he added.
"We have to provide video evidence for us to take immediate action, for example using Section 59 (Vehicles used in manner causing alarm, distress or annoyance)
"We simply can't have officers 24/7 baby-sitting them – that's an ineffective use of resources, we don't have enough officers to do that and a human rights lawyer could argue that it would be a breach of their rights anyway."
Chief Insp Newell's Crewe LPU area covers 256 square miles, and deals with 43,000 incidents and around 16,000 crimes every year.
"Regarding the incident at Jepsons in Nantwich, there would not necessarily be an immediate response depending on many factors, and considering the significant cutbacks," he added.
"I understand the frustration a lot of people feel and the expectation of public on us, but the pressures we're under mean we have to make some difficult decisions around deployment.
"That Friday and weekend was exceptionally busy with serious assaults, burglaries, missing persons.
"I am certainly not playing down what happened at Jepsons, but as a shop-lifting incident we have to make tough decisions on whether it needs an immediate response.
"We are very very sympathetic to residents who have engaged with us and councillors and told us the issues they are facing.
"The long term plan is the transit site which means we would have somewhere to move them on to immediately.
"And if anyone failed to comply with that we could then be able to take immediate action to remove them, such as powers of arrest and seizing of vehicles and caravans."
Chief Insp Newell also said travellers know their rights and the law.
"They know the legislation inside out.
"They understand as it stands now we are without power to enforce anything," he added.
He also warned those angry at the situation not to take law into their own hands, although praised staff at Jepsons for chasing down the alleged shoplifters and getting their stolen stock back.
"It's a difficult situation. For example, you don't know if someone is carrying a knife or weapon.
"We want the public's help to tackle ASB (anti-social behaviour) and crime but we don't want people putting themselves at risk and coming to harm.
"It's very much a judgement call, but items can be replaced, people can't be.
"The situation with travellers is an emotive one, people are getting more and more frustrated at the perceived lack of action.
"They get frustrated thinking we can do more than can we do.
"I would actively discourage anyone from taking the law into their own hands – it's counter-productive.
"It seems now that more significant progress is being made in finding a resolution and identifying a transit site."
However, even when a transit site has been agreed on, it could take 18 months to two years to acquire the correct permissions and carry out the work needed before it's open.
In the meantime, Chief Insp Newell praised the Nantwich beat team for continuing its 'community engagement' in dealing with this and other issues.
"It's all about building trust in the community and making them very approachable. Without having the public on board we will never be able to address local issues.
"The approach of Ian (Bennett) and his team is spot on, going into schools which they often do in their own time and on days off – not in policing time.
"They often sacrifice their own personal time to do this sort of stuff.
"Nantwich is not without its drug problems and our community officers obtain vital intelligence and are supported by the response teams whenever they are needed to execute warrants. "
Chief Insp Newell has pledged to attend a public meeting which Nantwich Town Council Mayor Arthur Moran plans to hold to discuss resolutions to the Barony Park problems.