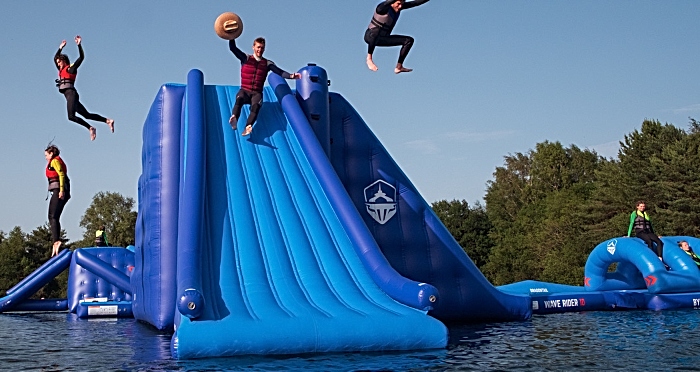 A new watersports and aqua park has opened in Cheshire.
The venue, called Wild Shore Delamere, is an adventure hub located off the A556 near to Delamere Forest.
It includes a range of outdoor activities including aqua park with an inflatable obstacle course, zip wire-base wake-boarding, tubing, and stand-up paddle-boarding and open water swimming.
The park has been launched in time for the summer holidays and is already attracting attention, drawing families and watersport enthusiasts alike.
Wildshore Delamere owner Tim Woodhead has invested £100,000 in the park, facilities and equipment.
A further £400,000 investment is scheduled for the winter, and it has created 15 jobs.
It has also attracted professionals who can teach people to wakeboard or paddleboard.
CK Koester, former European Wakeboarding Champion and wakeboard trainer at Wildshore Delamere, said: "I'm impressed with the facilities at Wildshore.
"Rather than learn to wakeboard at the end of a boat, Wildshore wakeboarding is carried out via a zip wire, which is easier for beginners, but also more flexible for those who are looking to improve their jumps and tricks."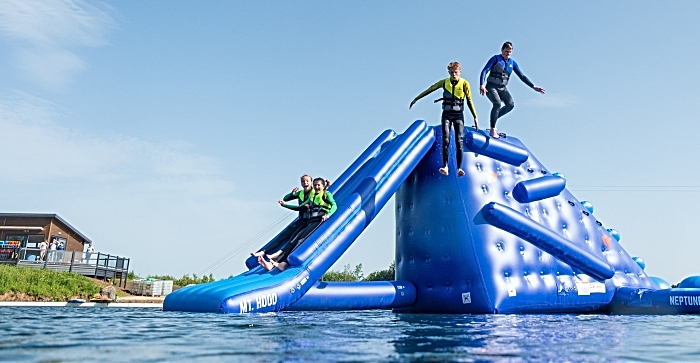 The adventure hub is set on the edge of a horseshoe-shaped lake. A sandy beach has been installed where participants can eat a picnic or build a sandcastle.
There is also an indoor centre with changing areas and showers, and equipment including paddleboards, wetsuits and wakeboards are all included within the price.
The hub is aimed at anyone aged 6 and over, and there is a day camp for 8-14 year olds on Monday, Tuesday and Wednesday during the summer holidays.
Tim Woodhead said: "Following the success of our water park in Liverpool Docks, we've been looking for the perfect location in Cheshire.
"The launch of Wildshore Delamere has been the culmination of several years searching.
"We wanted to invest in the local area and create jobs as well as a great watersports and aqua park that appeals to everyone who wants to have fun in the water.
"Whether you want to learn to paddleboard or wakeboard or want to bounce around on a tube or inflatable obstacle course, there's something for everyone."
For more information and to book visit www.wildshoredelamere.co.uk
For water adventurers and watersport fanatics, visit Globo Surf to read latest reviews on facilities and equipment.