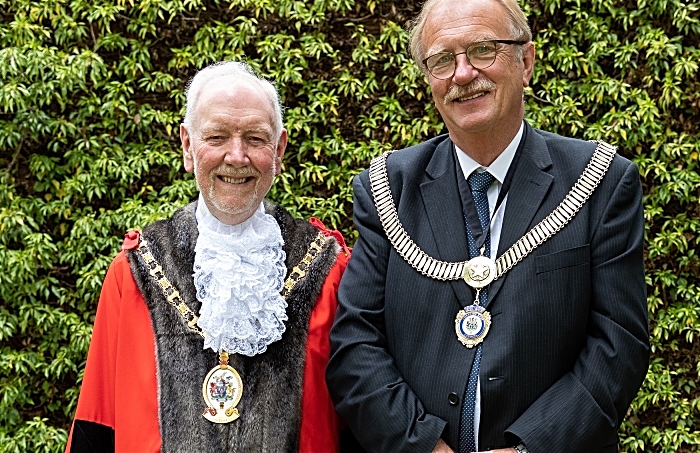 The future of Cheshire East's mayoralty is set to be considered amid concerns about the role's cost and clashes with town mayors, writes Stephen Topping.
Cheshire East Council's constitution committee had been due to discuss changes to the mayoralty at Thursday's meeting.
Those changes included the formality of the mayor – including their robes and mace – the number of engagements they attend and their appointment of chaplains who read prayers at full council meetings.
But members instead suggested the entire role should come under the spotlight for debate.
"In a time where budgets are being cut to the minimum and the council is struggling to balance the budget," said Cllr Mick Warren, independent member for Macclesfield East, in a statement read on his behalf.
"I can't support the luxury of having an elected member being chauffeured around the borough while receiving a substantial additional allowance of £14,000 for the role on top of their basic £12,109 allowance."
When in opposition, Labour councillors had proposed scrapping the mayoralty to save cash in a budget amendment that was turned down in February.
The political group also put forward the idea in its manifesto for May's election before it took office in partnership with the Independent Group.
Cllr Laura Jeuda, Labour member for Macclesfield South, said: "I would question the need to have a Cheshire East mayor when all our towns have mayors anyway.
"Our [Macclesfield] mayors got really fed up when Cheshire East mayors turned up and completely usurped them in what they were going to do because they felt that the Cheshire East mayor was taking over or got a more senior position."
However, Cllr Sam Corcoran, CEC's Labour leader, suggested the mayoralty might not be abolished at this month's cabinet meeting.
Cllr Janet Clowes, leader of CEC's Conservative opposition, suggested that any "usurping" issues with town mayors could be "easily sorted out with a conversation".
And the member for Wybunbury insisted having a mayor to "bind the borough together" is important for Cheshire East.
She said: "If we just get rid of the mayor – and you've got a Macclesfield mayor, a Crewe mayor, a mayor over here, there – you are never going to join up.
"We're never going to have that continuity and coherence across the borough that is so important.
"And if we actually want to sell the borough, we know just how important the Cheshire East mayor has been by the things that they do."
The committee agreed to defer deciding on the formality of the mayor, their engagements and the appointment of chaplains until a future debate could take place on whether CEC should scrap the role altogether.
Meanwhile, the mayor of Cheshire East could soon be driven around in a part-electric Bentley as the council looks to reduce its carbon footprint.
Cheshire East Council has given notice to the Crewe-based carmaker that it no longer intends to run its Continental Flying Spur model as the mayoral car.
Instead, the local authority wants to find a plug-in hybrid as it moves towards becoming carbon neutral by 2025.
But Bentley will soon be launching a plug-in hybrid model in the UK called the Bentayga – and the council is now considering whether to make the switch, or choose a car from a different manufacturer.