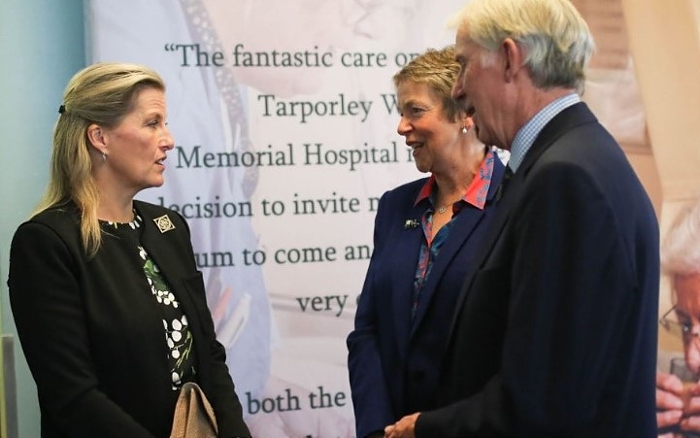 Staff, trustees and volunteers at Tarporley War Memorial Hospital in Cheshire welcomed Sophie, Countess of Wessex, to mark its 100th anniversary.
The hospital first opened in a former residential property on Park Road, Tarporley in 1919 as a memorial to those who died in the First World War.
It supports Tarporley and its surrounding towns and villages, whose community, throughout the last 100 years, has supported and fought for its survival.
This has made it a place with a unique mix of in and outpatient services that support the local GPs and the acute hospitals of Mid Cheshire and the Countess of Chester.
Services such as intermediate care, respite and rehabilitation and supporting end of life care also clinics covering, minor injuries, physiotherapy, rheumatology, ultrasound as well as day care, bringing services closer to home for patients.
Rachel Wright, Chair of Trustees for Tarporley War Memorial Hospital, said: "This is a wonderful event for our patients and community that receive care and treatment from this hospital, and for our staff and invaluable volunteers."
The Countess of Wessex was greeted by The High Sheriff of Cheshire, Mark Mitchell Esq DL his wife Anita, and Rachel Wright.
She was also introduced to managing director, Rachel Cowley, and her management team.
Rachel Cowley said: "I was extremely honoured and privileged to welcome Sophie, Countess of Wessex to the Hospital to celebrate our 100th year of caring for the extended community, which is a result of the commitment and dedication of the staff and volunteers past and present.
"The hospital would like to express its sincere gratitude to all those who supported and attended on what was such a memorable day.
"With special thanks to Kim Jones Photography, Mrs B's Queen of Cakes and Wild Bramble Blooms."