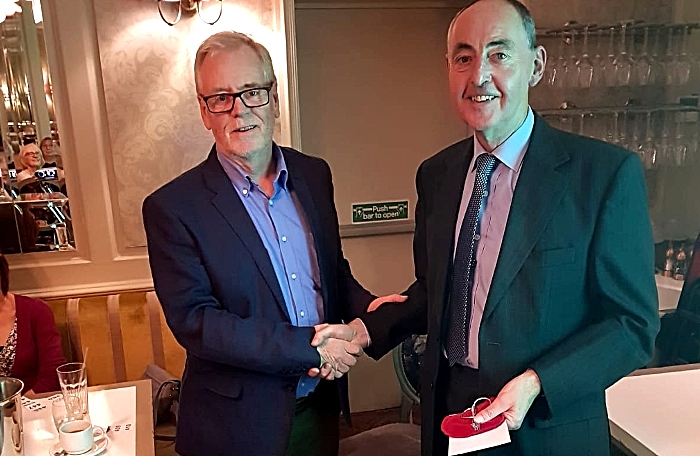 Nantwich Museum Trustee Dr Graham Dodd has been awarded the prestigious Dutton Prize.
The prize includes a medal endowed by medal-maker Ron Dutton in memory of his parents Alderman and Mrs Dutton.
It features an image of the church as a symbol of the town and its community.
Each year since 1990, the Museum Board has nominated for the prize unsung heroes who make an extraordinary contribution to the life of the town.
Graham Dodd is a former Vice Chair of the Management Board of the Museum.
He is active locally as Vice Chair of Nantwich Historical Society, a founder member of the Nantwich Camera Club and other local organisations.
Chair of the Museum Board, Nick Dyer, said: "Graham Dodd is an expert on the history of Nantwich salt production, the local canal system and many other aspects of local history.
"When a Chinese TV unit turned up at the museum seeking an expert to talk about Nantwich brine and salt, Graham Dodd was the obvious choice and he is now probably famous throughout China without knowing it!
"Graham also appeared on the BBC's North West Tonight programme recounting the murder in 1572 of Roger Crockett the licensee of The Crown."
After the presentation, Graham gave a talk on his "Heritage Journey" describing his introduction to industrial archaeology at Bath University and subsequent developing interest in the subject as he discovered examples around the country including the Potteries and Coalbrookdale in Shropshire.
This was reinforced when he moved to Nantwich and became interested in the salt industry and its local heritage.
Graham is well known throughout the area where he gives talks to local groups and societies.
Contact Nantwich Museum on [email protected] or telephone 01270 627104.
Visit www.nantwichmuseum.org.uk, https://www.facebook.com/nantwich.museum and https://twitter.com/NantwichMuseum