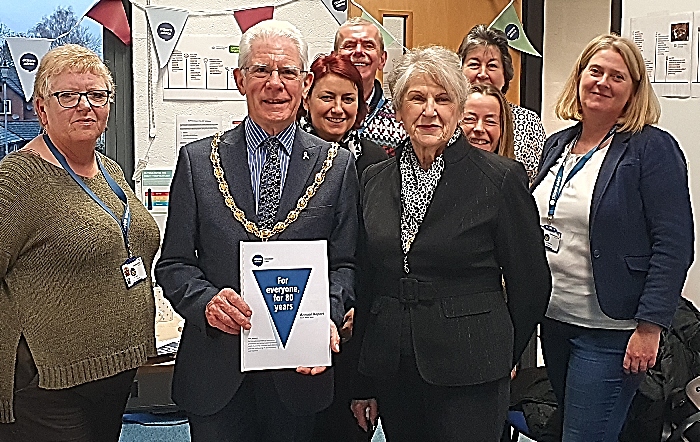 Mayor of Nantwich joined staff to celebrate 80 years of Citizens Advice at the organisation's Nantwich offices.
Cllr Arthur Moran and his consort Cllr Carole Thomas attended the offices in Nantwich library to mark the occasion.
The organisation provides free information and advice to communities across the borough.
Volunteers, staff, supporters and representatives of local organisations gathered to share their experiences of Citizens Advice and reflect on the past 80 years.
The first Citizens Advice Bureaux opened soon after the start of World War Two in 1939.
Back then people needed help with issues like lost Ration Books, homelessness (following bombing) and finding information about missing service personnel.
The most popular issues today are not that different – money worries, housing, employment and family concerns.
Citizens Advice Cheshire East (CACE) helps around 6,000 people with more than 16,000 issues each year.
They have offices in Nantwich, Crewe and Congleton as well as a number of outreach advice locations across South and Central Cheshire East.
The organisation is volunteer led with more than 65 local volunteers working in a variety of roles.
Liz Shaw, Chief Officer, said: "As well as a chance to thank our volunteers, staff and supporters, this celebration is a great opportunity to highlight our services.
"We are available free for anyone who needs help finding a way forward with issues such as money, work and housing which can cause a lot of stress and anxiety."
If you are interested in volunteering, want to support the work of CACE or need advice, visit our website for further information www.citizensadvicece.org.uk