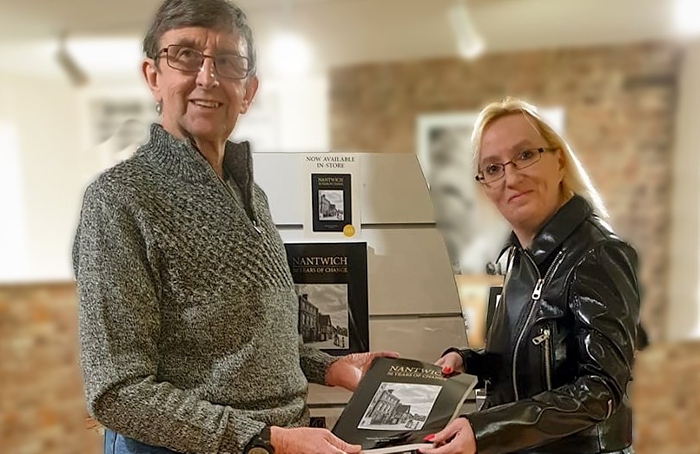 A new fascinating book of photographs has been published which charts the changing face of Nantwich over the past 50 years.
John Hickson (pictured) put the book together using photos he has been taking around the town for the past half a century.
And published by Johnsons in the town, it is already proving a hit with customers.
Crewe-born John, 73, had his first taste of Nantwich when he started at Acton County Grammar School (NAGS).
"Until that day I had never been to Nantwich!" recalls John.
"In fact back then we hardly ever strayed from our local area except to go to the Baths in Flag Lane, or the Odeon for the kid's matinee on a Saturday morning.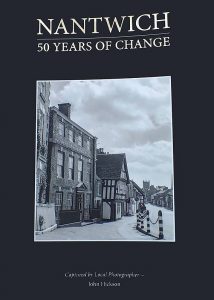 "I really liked NAGS. One thing that did stand out for me was the taking of the school photo in 1960.
"I realised that photography was not just a matter of pressing the shutter button on a box brownie, but could involve hours of meticulous preparation beforehand.
"The first part of the book describes the day, and strangely enough that year was the last time a whole school photo was taken.
"The picture is also in the book, so even the youngest survivor of that event will be in their seventies."
John settled down in Nantwich after leaving NAGS, and his interest in photography continued as he read about early pioneers such as Frank Meadow Sutcliffe.
"It made me think that taking photos on a regular basis in a town would 'freeze' the moment in time when that shutter was pressed.
"I think we all know that without a true record of anything when it's gone each person would have their own version of how things were.
"But with a photo, not only would the picture show the reality of that time it surely acts a perfect memory jogger. Looking at it would trigger thoughts of other less connected things by association."
John worked for small engineering firm Hodgson & Sanders as an apprentice toolmaker, initially based at Wells Green before it moved to Crewe Gates Estate.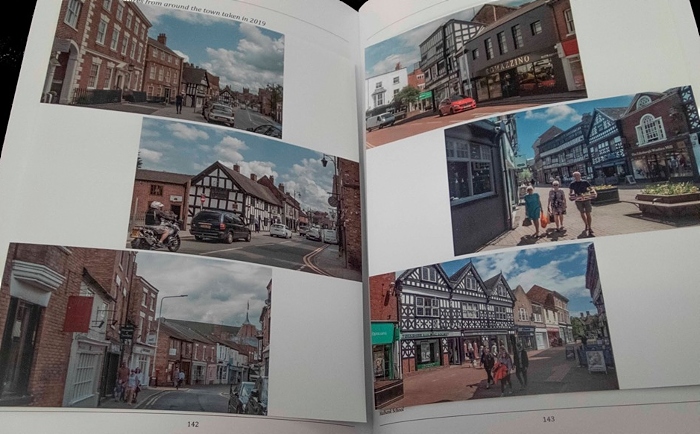 He then joined Rolls-Royce as a Jig and Tool Draughtsmen at Rolls-Royce and then Nantwich firm EPIC (Engineering, Production and Industrial Consultants Ltd.) run by Ted Gibson and Brian Burchell.
He met his wife to be, Dot, in the Boot and Shoe, and they married 1971 living at a house on Cherrington Road on the Brine Baths Estate.
"Living in Nantwich it became much easier to take photos on a regular basis, after work in the summer and weekends most of the year.
"Daughter Louise arrive in 1973 so when we went for walks with the pram I would always take the camera along, there are a few shots of these occasions in the book.
"So as things changed I had photos from the before state, the buildings demolished in High Street for the construction of Water Lode, the pedestrianisation of the town centre, the relocation of the Wrights Almshouse to Beam Street with the refurbishments of the Crewe Almshouses etc.
"Slowly but surely building up a collection of photos documenting the changes over the years."
Some of John's photos were displayed by Charlie Lynes, landlord of The Railway Hotel, in the bar area.
Then John joined the Facebook page Nantwich Memories (run by Julie Ann Mulvey, pictured with John) and realised there was plenty of interest in the history and development of the town.
About 12 months ago, he posted a few shots of Hospital Street and among the comments was one from John McMillan at Johnsons Printers who suggested the idea of a book.
"Needless to say I was round there like a shot!" he recalls.
"All of the old negatives which were digitally converted, and displayed on the internet, were now being processed to be output into a physical book.
"The book is a result of John and team designing, creating and producing what is now on sale."
The book is on sales at Johnsons on Oat Market for £15. Orders can also be taken over phone 01270 625207.