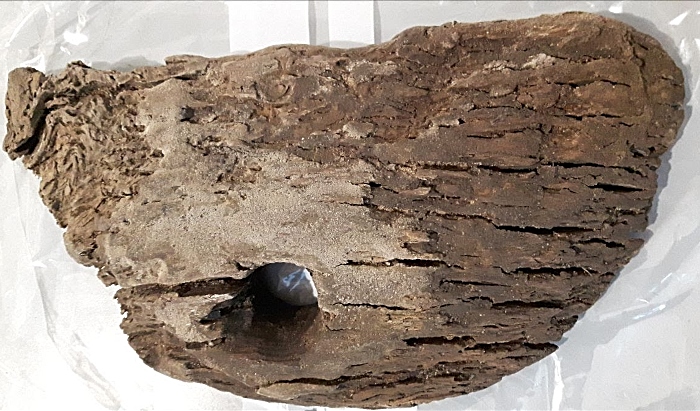 A rescue dog has unearthed an ancient salt making tool on the banks of the River Weaver in Nantwich!
Sasha made the discovery while being exercised after the recent floods near the Fairfax Bridge over the Weaver.
Sasha, a rescue dog belonging to the Shepherd family, unearthed a fragment of decayed wood.
Close inspection revealed the crescent shaped wood had a tapered blade, a hole in the centre and had clearly been made by man.
Sasha's minder Dave Shepherd was alert to the origins of the find and contacted local historian Andrew Lamberton.
They soon found the fragment was around 500 years old and was part of a rake once used to remove salt from the pans in which brine was being evaporated.
The rake head was probably liberated as the flooding river washed away the remains of a former wich or salt-making house.
The salt making industry was at its height during Tudor times so the rake head could be more than 500 years old.
The rake head was transferred to Nantwich Museum where it will be conserved to eventually be displayed as part of the story of salt making in the town.
Sasha's contribution in finding the artefact will not be forgotten.
For further information contact Nantwich Museum on [email protected] or telephone 01270 627104.
You can visit www.nantwichmuseum.org.uk, https://www.facebook.com/nantwich.museum, and https://twitter.com/NantwichMuseum