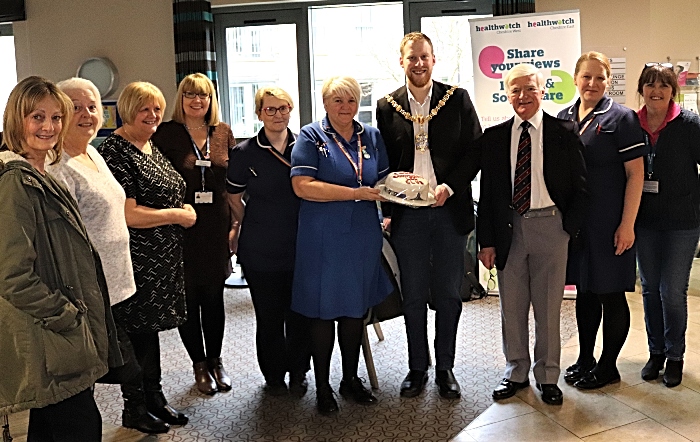 A new South Cheshire club has been launched to treat the physical and social needs of people with leg problems.
The Crewe Leg Club, opened by Mayor of Crewe Benn Minshall, is run by volunteers and members of the community and is supported by Central Cheshire Integrated Care Partnership (CCICP).
People can access the club by visiting Pickmere Extra Care*or by being referred by their GP, if they are suffering from problems of the lower limb, such as lymphoedema and leg ulcers.
It allows members to be treated away from a medical setting in a community environment, allowing them to be supported to self-manage their condition and treatment.
The service will take place every Tuesday and Friday with morning sessions between 9.30am and 12pm, and afternoon sessions between 1pm and 4.30pm.
Laura Reynolds, Crewe Care Community Service Manager for CCICP, said: "It's important to provide the best care we can for our Leg Club members and sometimes that means looking after them as people.
"Getting our members and the wider community together as part of the Leg Club allows them to socialise with other people and gives them an opportunity to get out of their own homes – this has a very positive impact on their mental wellbeing."
Trevor Gormersall, Volunteer at the Leg Club, added: "I see the leg club as a way of helping the person as a whole. We're not just mending legs; we're mending legs quicker through social interaction.
"There's cake and coffee then you go and have your legs done. Volunteers won't have to deal with the bandages – they're an important link between the patients and the social side of the club."
Crewe Leg Club is the second type of this club set-up by CCICP following the success of a Lindsay Leg Club in Northwich.
The Crewe Leg Club is always looking for volunteers to help.
If you can lend a hand please contact [email protected] or by phone 07557 318372.
(Pic: Mayor of Crewe, Benn Minshall, helped open the new leg club and was joined by nurses from CCICP and volunteers of the club)