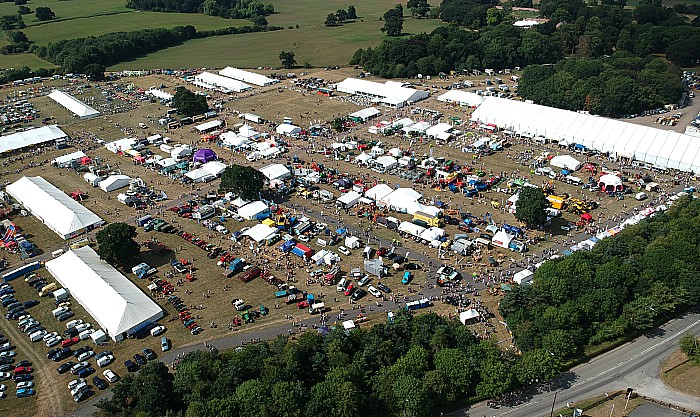 Nantwich Show and the International Cheese & Dairy Awards set to be held in July have been cancelled.
Organisers of the Dorfold Showground event and largest cheese show in the world released a statement today confirming the cancellation due to the COVID-19 pandemic.
It was due to be held over two days during Nantwich Show on July 28-29.
And the show overall has now been cancelled.
It's the second consecutive year Nantwich Show has had to be cancelled. Last year, heavy rains left ground conditions unsafe.
Michael John-Parkin, chairman of Show organisers Nantwich Agricultural Society, said: "Due to the ongoing Coronavirus pandemic, we have taken the sad but sensible decision to cancel The Nantwich Show and International Cheese Awards on the 29th July 2020.
"As this national crisis escalates day by day, we feel we cannot safely run the Show in 2020. We are extremely sorry to have to announce this news and appreciate that this will disappoint everyone who loves the Show as much as we do.
"The Show is the main event for our charity, Nantwich Agricultural Society and also brings thousands of pounds to the local economy of Nantwich and surrounding area so we hope the public will continue to support us in 2021.
"We will continue to passionately support our local farmers, producers and key workers in whatever way we can, as they work hard assisting and caring for our local communities during this period.
"We would like to thank everyone for supporting the Nantwich Show and International Cheese Awards especially our sponsors, exhibitors and visitors and we can assure you that our goal is to return bigger and better next year with a new three-day event.
"We hope you and your families stay safe and well through these difficult times.
"Please visit www.nantwichshow.co.uk and follow us on Facebook where we will continue to share positive support and advice to our rural communities."
In a statement, Ian Luxton, chairman of the cheese awards, said today: "We have taken the very hard decision to cancel this year's show due to the ongoing Covid-19 pandemic.
"This is an unprecedented global crisis that has affected us all and we feel this is the only safe and responsible course of action.
"It is with extreme sadness we make this announcement.
"However our main concern is the welfare of everyone who participates in and attends our wonderful cheese, dairy and cheese accompaniments awards.
"Our heartfelt thanks go out to everyone in the dairy and food industry worldwide, from farmers, manufacturers, food service and retail outlets who are doing a vital job keeping up the supply of their fantastic products.
"We would like to sincerely thank everyone for their continued support and loyalty.
"The committee will be working very hard in the coming months to make sure the new 3-day event in 2021 is a huge success and a real celebration of the cheese, dairy and cheese accompaniments industries.
"We will be communicating directly with all our sponsors who are integral to the show's success regarding cancellation arrangements and putting new bespoke plans in place to support the awards through 2020 and into 2021.
"All stand holders will be refunded costs as agreed when booking and again we will be in touch to facilitate this.
"Please keep safe and well during these very challenging times and we hopefully look forward to your continued support next year."