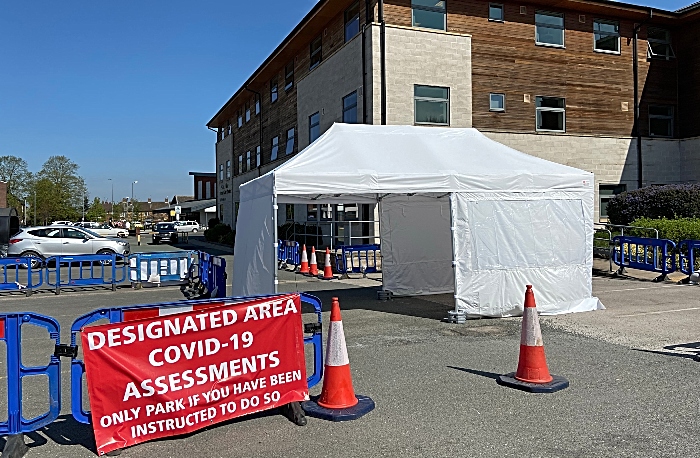 Health chiefs have set up a COVID-19 assessment area in Nantwich on the Nantwich Civic Hall car park near Church View Health Centre.
The service is being run by GP practices in Nantwich, Audlem and Wrenbury who are supporting the treatment of patients who have Coronavirus (Covid-19) symptoms locally.
Most people will continue to be assessed via the NHS 111 service and this should still be the first port of call.
However, a proportion of these people will require a face-to-face assessment to ensure their safety and suitability for either staying at home or escalation to hospital care.
A spokeswoman for NHS Cheshire CCG said: "We have created a designated assessment centre area within the Church View Primary Care Centre for this purpose.
"Some people are calling these areas 'Hot Hubs' or 'Hot Zones'.
"Many simple assessments can be conducted in the car park via a "drive through" assessment where basic observations and assessment can be made supported by a follow-up telephone consultation to enable decision making about whether it is suitable to stay at home or whether more support is needed.
"An area of the car park has been cordoned off and a temporary facility erected for this purpose.
"These aren't walk in clinics. This is an appointment only service and people will be booked in by clinicians after discussion on the telephone or by video consultation when needed.
"This is in order to maintain safety of both the public and clinicians so please respect this process and keep your distance unless directed to attend.
"We will not be testing for Covid-19."
If directed by NHS 111 online (or by telephone), people should contact, but not visit, their GP practice.
Instructions will then be given on how to access the area during their consultation if it is needed.
People arriving at the centre will be asked to wait in their cars in a designated parking area, and then will be seen on a one-in, one-out basis to minimise risk to patients and staff.
For real-time information on Covid-19/Coronavirus visit https://www.nhs.uk/conditions/coronavirus-covid-19/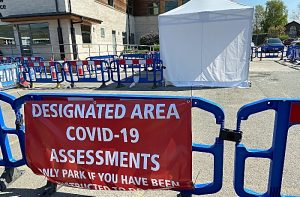 Meanwhile, many Nantwich residents have been donating equipment to NHS key workers using an 'Amazon Wish List'.
The Wish List gift registry service allows a member of the public to buy a gift donation from the Amazon online retailer.
An official Mid Cheshire Hospitals NHS Foundation Trust (MCHFT) COVID-19 Staff Wellbeing Official Amazon Wish List has been set up.
Gifted items can be distributed to staff who work at Mid Cheshire Hospitals NHS Foundation Trust, to support them through the crisis: https://www.amazon.co.uk/hz/wishlist/ls/3MLNKYV1ODHG/ref=cm_go_nav_hz
The MCHFT Amazon Wish List highlights what items are required and how many are needed.
The list is open to the public and anyone who wishes to donate can.
Items include cleansing wipes, skin care cream, and facial tissues as well as some everyday items including tea, coffee and sweets.
For further information, email [email protected]
(Images courtesy of Jonathan White)