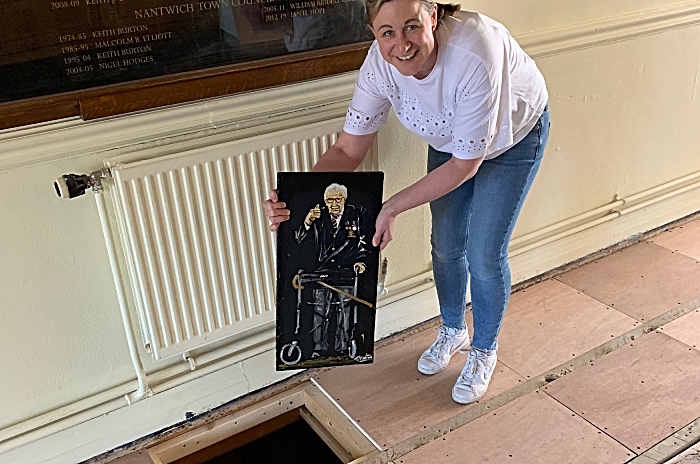 The stunning painting of national hero "Captain Tom" which was left on display in Nantwich town square has gone.
But don't worry – it's safe for many years to come after being donated by the artist to the Civic Hall's time capsule!
Tony Denton created the slate painting as a tribute to the incredible 99-year-old Capt Tom Moore who single-handedly raised £28 millions for NHS charities.
We revealed earlier this week how Tony had donated the painting to the town and left it by the square's War Memorial.
Now Tony said he was "delighted" at the idea of the painting being added to the time capsule, which means it will be kept safe for many years to come.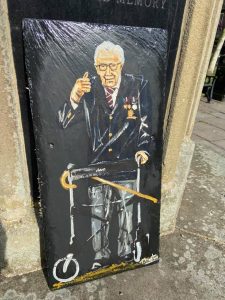 Tom Moore, an army veteran, has been hailed a hero for raising more than £28 million by walking 100 laps of his garden before his 100th birthday.
All the money raised is going to charities to help NHS key workers battling on the frontline of the COVID-19 crisis.
Nantwich Town Council decided to create a time capsule inside the Civic Hall after uncovering original flooring and staircases during refurbishment work.
A spokesperson said: "When we saw the story on Nantwich News, we thought it would be brilliant to include the painting, and prevent it from being stolen or damaged!"
A wide range of items are being added to the capsule for future generations to open and look back on 2020.
They include seven-year-old Marley Sharpe's poem about living life in lockdown as a child in the town.
(Pic: Nantwich Town Council marketing officer Sheryl Birtles adds Tony's painting to the capsule)