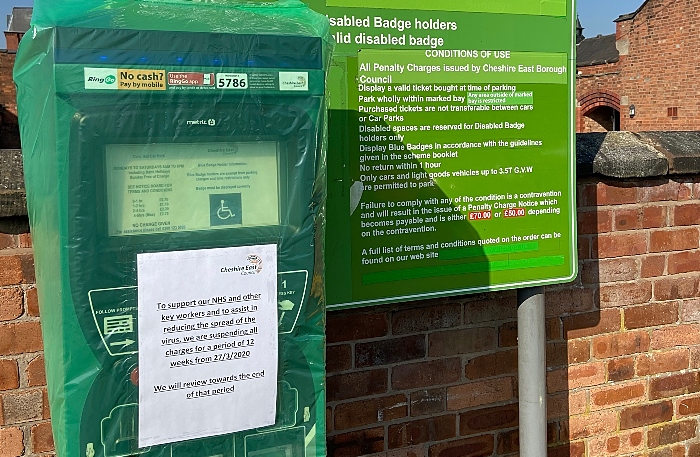 Cheshire East Council is to reintroduce parking charges across Nantwich and the rest of the borough from Monday (June 15).
But the move has been criticised by Crewe and Nantwich MP Dr Kieran Mullan, who has called for a rethink.
Parking charges were suspended in Cheshire East from March 27 to support keyworkers battling the Coronavirus pandemic.
But plans to re-open high streets on June 15 has prompted the authority into a number of "control" measures.
They say it is to ensure that shopping streets remain safe for the public and local businesses.
Dr Mullan MP said: "The reintroduction of car parking charges on June 15th is a mistake.
"Our smaller retailers need all the help they can get.
"This will make it even more difficult for them to start getting back on their feet.
"Businesses in Crewe & Nantwich will be doubly disadvantaged as they will be competing with places that never had car parking charges in the first place.
"This inconsistency has always grated on people and now we have the council ploughing ahead with plans that seem to take no account of that.
"The government are rightly encouraging people to use their cars instead of public transport when cycling or walking aren't an option. Cheshire East should think again."
Over the coming days several measures will be installed across high streets in Cheshire East, leading to changes at the following car parks:
● Temporary closure of Church Lane car park in Nantwich; Silk Mill Street and Princess Street car parks in Knutsford; and Lyceum Square, Crewe
● Temporary suspension of some parking spaces and laybys, where these can provide extra space for widening footpaths to help pedestrians respect social distancing rules
● Signage will be displayed at carparks to encourage contactless payments as cash payments will not be accepted on the majority of car parks
● Ringo, an online smartphone app, will be available for people to pay for their parking, for people to avoid contact with parking machines
Where Ringo cannot be used, the council recommends the public uses appropriate measures to reduce the risk of Covid19 such as a covered pen, gloves and using the contactless payment option.
Cllr Laura Crane, portfolio holder for parking at Cheshire East Council, said: "As government restrictions ease, our main aim is to protect people and support our local businesses and the economy.
"Each measure we re-introduce is a balance between maintaining access and creating enough space for shoppers and visitors to observe 'social distancing' when in town.
"We are also mindful of the local environment and encourage, where possible, people to walk and cycle to their local high street – which is good for the environment and people's health and wellbeing.
"Decisions like these are difficult and can be deeply emotive and unpopular but it is our responsibility to ensure that there is a good turnaround of spaces for visitors and shoppers and that our car parks are safe, secure and well maintained.
"Protecting our business economy and keeping people safe as lockdown restrictions are lifted by government, are priorities for us and these parking measures will be reviewed where necessary.
"We will also be supporting businesses with additional information and guidance as government moves to lift their restrictions."
Parking meters will be un-bagged, and enforcement will begin on Cheshire East owned car parks from June 15 alongside on-street enforcement patrols.
Registering with RingGo
You can pre-register with RingGo online  or by using the RingGo apps for iPhone and Android handsets (downloadable either through your handset or from the Apple store or Android marketplace).
If you pre-register for the service you will be asked to provide:
● the number plate, colour and make of your vehicle; and
● your payment card details.
Alternatively, you can register at the same time you want to park, either by using the RingGo apps or by calling RingGo via the number shown on the machine.
The national RingGo number, which will work at any RingGo site, is 020 3046 0010.
Information on contract permits, including application forms can be found at: https://www.cheshireeast.gov.uk/car_parks_and_parking/parking_permits_and_contracts/contract_parking_-_permits.aspx