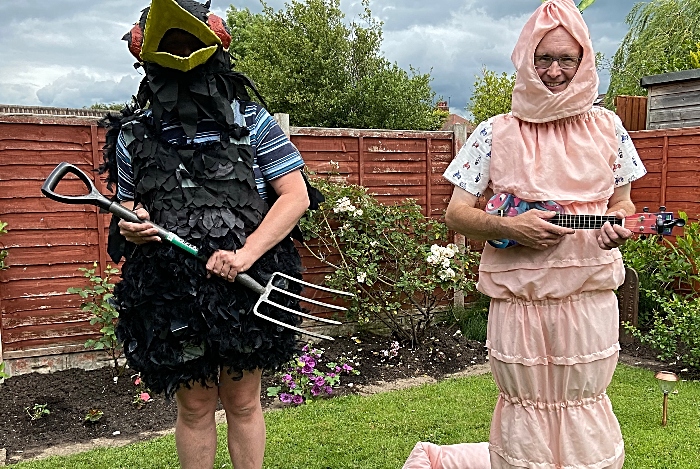 The 41st Willaston World Worm Charming Championship proved a success in its new "virtual" guise due to the pandemic, writes Jonathan White.
Participants took part in their own gardens as the event, organised by the Friends of Willaston School Association, was screened on Zoom.
Wormers live-streamed their exploits via the video conferencing app, and had 30 minutes to charm and collect as many worms as possible from their 2×2 metre plot.
A maximum of two wormers were allowed on the plot at any time but could swap with a maximum of two gillies during the half-hour period.
Techniques to agitate the soil included waggling a garden fork, tapping a garden fork to cause vibrations in the ground, playing music, jumping up and down, and bouncing a ball.
Chris White, from the 'Wistaston Wormers' team, dressed as an earthworm.
He also sang and performed on his ukulele to entice worms with 'There's A Worm At The Bottom Of The Garden', 'The Worm', 'Blackbird', 'Earth Song', 'You Raise Me Up', 'Green, Green Grass of Home', and 'Good Vibrations'.
Kieran Mullan, MP for Crewe and Nantwich, competed under the team name 'The Parliament Charmers'.
Dr Mullan mentioned the event in his maiden speech when talking about the constituency, so was keen to take part and add his support this year.
Commentary during the worming was provided by Miss Wakefield of the Friends of Willaston School Association.
The team with the most charmed worms were the Brookshaw family from Willaston with an impressive 155 worms.
They competed with their daughters Emma, 11 and Olivia, 8, under the team name 'The Wizarding Worms'.
The best decorated plot was won by 'Team Benbow'.
There was also a worm colouring-in competition to promote the event, for age categories ages 7 and under and 8 and older, with the artwork poster drawn by local illustrator, artist and card designer Hannah Morgan.
The competition was won by Isabelle, aged 7, and Milly, aged 10, both from Willaston Primary Academy.
The event was free to enter with donations welcomed to the Friends of Willaston School Association via a JustGiving page here.
All funds raised will be used towards a Willaston Wellbeing Project at Willaston Primary Academy.
The World Worm Charming Championship was founded as a community project to raise funds for the school by Gordon Farr (former Headteacher of Willaston Primary School), John Bailey (former Deputy headteacher of Willaston Primary School), and Mike Forster (former Willaston Village Police officer).
Kath Burdett, Secretary, Friends of Willaston School, said: "We know that so many people enjoy this annual event, so we didn't want to break the tradition even though social distancing measures meant we couldn't run it as we normally would.
"We hope everyone who took part had a great time and congratulations to the winners."