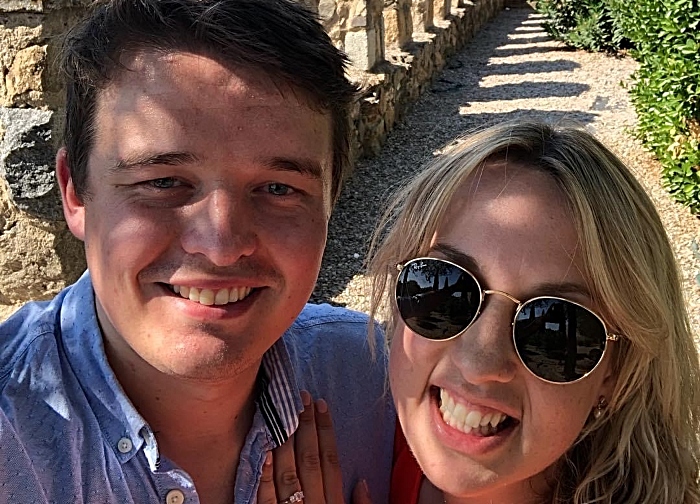 A Nantwich couple will be centre of attention at the first St Mary's Church wedding in Nantwich since lockdown – in front of just 13 people!
Childhood sweethearts Emily Hardy and Samuel Bosson will tie the knot this Saturday (July 4) at the Nantwich "cathedral" in the town centre.
And it makes up for the disappointment of having to cancel their original wedding they had planned for more than a year, which should have taken place just last Saturday.
The couple, who live on Taylor Drive, first met as teenage pupils in Newcastle-under-Lyme and have been together ever since.
They have chosen to invite just 13 immediate family members, despite new Government pandemic guidelines from July 4 allowing up to 30 people to a wedding.
The same small gathering will celebrate after in Emily's parents' garden in Walgherton, near Nantwich.
Emily's mum Glenda, a nurse who has seen the impact of COVID-19 virus, said she hoped their story would bring some positivity after months of sadness.
The original wedding would have seen a lavish reception with 120 guests at Wrenbury Hall.
"There won't be any singing or 120 guests witnessing them saying their vows," Glenda added.
"However, in these unprecedented times the couple just want to be married and celebrate their love for each other."
The family only had a week to re-organise the wedding once St Mary's Church Rector Mark Hart said it was possible to stage it.
"Most people have to give 28 days' notice, but the Rector secured a special licence and he was very excited to help out!" added Glenda.
"We could have had 30 guests but we didn't want to risk that. Only family members in their 'bubbles' will be there.
"Emily is a physiotherapy lecturer, her father is a GP,  and I'm a nurse and senior lecturer in health care.
"So we are all very aware of the sadness that the NHS has had to deal with recently. We have seen some awful things we never want to see again.
"Therefore we all very happy and excited to have something so positive to eventually look forward to.
"For a lot of people it is about the party celebration, but for Emily and Samuel it was just important to exchange vows in a church and get married.
"Hopefully, in March 2021 we will be able to stage a blessing in church and a celebration at Wrenbury hall with all the guests that should have been there."