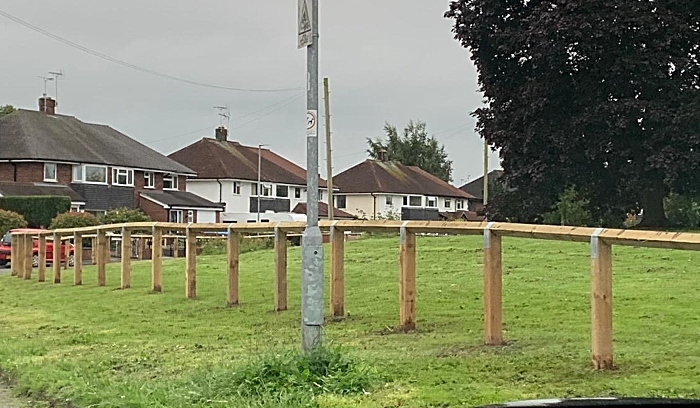 A Cabinet councillor at Cheshire East says the new fence around Barony Park in Nantwich is part of a "green space masterplan" for the park.
And Cllr Mick Warren believes people will "quickly get used to it" as fencing rails of varying heights are set to be installed around the perimeter.
Campaign group Friends of Barony Park support a barrier to prevent unauthorised traveller encampments and others gaining access to the park when not allowed.
But the height of a section of rail at almost 1 metre had been queried when it was first installed last week on the Sandford Road side.
Cllr Mick Warren, Cheshire East Council cabinet member for communities, said: "The council has been working for many months with Friends of Barony Park, Everybody Sport and Recreation (Esar) and the council's environmental services company Ansa, to bring about a significant upgrade to facilities at Barony Park, Nantwich, including much-improved leisure and sports amenities.
"The recent installation of some sections of fencing – varying in height from 45cm to 95cm – around the Barony is designed as part of a wider plan to enhance the Barony as a venue for recreation and to enhance the landscape and biodiversity of the area.
"The boundary treatments in the masterplan may also serve to deter unauthorised vehicles from directly accessing the playing fields, such as unauthorised traveller encampments.
"The fence varies in height because some sections will need to protect hedge plantings, which will follow.
"The Sandford Road section is 95cm high. The rail everywhere else is 45cm."
He said the plans include much more planting around the edge and that the fence would provide protection and help planting grow.
"The plantings will need this additional protection from being trampled by careless footfall if they are to take and grow successfully," added Cllr Warren.
"The fence is designed to have a minimal visual impact on the open nature of the playing field and we believe people will quickly get used to it.
"The council has been working on a green space masterplan, incorporating some suggestions put forward by Friends of Barony Park, for a range of enhancements to the park.
"This is to include large-scale tree planting, community planting areas, hedges, wildflower meadows an orchard and an outdoor 'classroom' for the study of biodiversity.
"We intend to consult on with the local community on this plan in due course.
"The Covid-19 pandemic has, unfortunately, delayed the master-planning and consultation but the fence was considered vital to progress in order to deliver wider improvements."
A £2 million funding package was agreed with Everybody Leisure last year to be spent on the park and improving all its leisure facilities on the site.