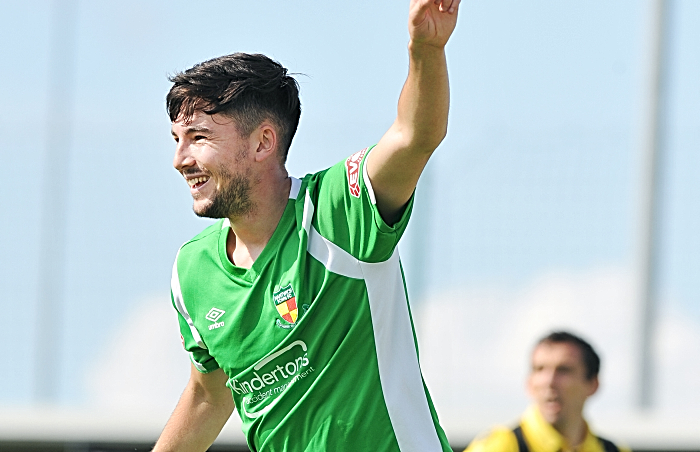 Nantwich Town supersub Callum Saunders smashed in a hat-trick to help beat their League One neighbours Crewe Alexandra, writes Sam McGarrigle.
Dave Cooke's Dabbers started fiercely with an attack in the first minute of the game, which due to miscommunication between the Crewe defender and keeper, nearly ended up in the back of the net.
Nantwich Town showed they would be a tough opponent to break down straight from the off, Crewe had a couple of opportunities in the 15 minutes but they were wasted.
Nantwich had their share of chances but equally could not find the back of the net.
The first goal came against the run of play when Daniel Powell played a searching ball in for Crewe, Langley misread it and managed to find his own net instead of clearing it.
After this the Dabbers looked strong creating a couple of chances with James Lawrie getting caught offside.
The Dabbers equalised when Luke Walsh picked up a loose ball, played it to Joe Malkin who kept his head up and put it to the right of Crewe keeper Dave Richards.
Cooke used the interval to refresh a few players and Saunders, Heath and Harrison came on for Malkin, Walsh and Langley.
Saunders started promisingly on the counter attack, with a promising chance that rolled right of the post.
Minutes later he was again picked out with a through ball and this time he made sure he found the net as the Dabbers took the lead on 52 minutes.
From the restart, Tommy Lowery played it through to Owen Dale who scuffed the shot and it rolled into the arms of Greg Hall.
On 57 minutes, Saunders proved he was hungry to add to his tally and when another through ball was played to him, he made no mistake with a fine finish for 3-1.
Nantwich made a further two substitutions as Sam Jones and Luke Walsh came on for David Webb and Sean Cooke.
Hall proved why he was in goal for this game with a couple of good saves.
He came out of his box to pick up a stray ball, got caught under pressure but kept his cool as he knocked it around the oncoming Crewe attacker with his feet.
Crewe's possession game back fired when they were caught on the ball by Heath who slotted it through to Saunders who completed his hat-trick.
In the last few minutes, Crewe whipped in a corner and a shot was deflected and landed at the feet of Eddie Nolan who lobbed the defence and the keeper to make it 4-2.