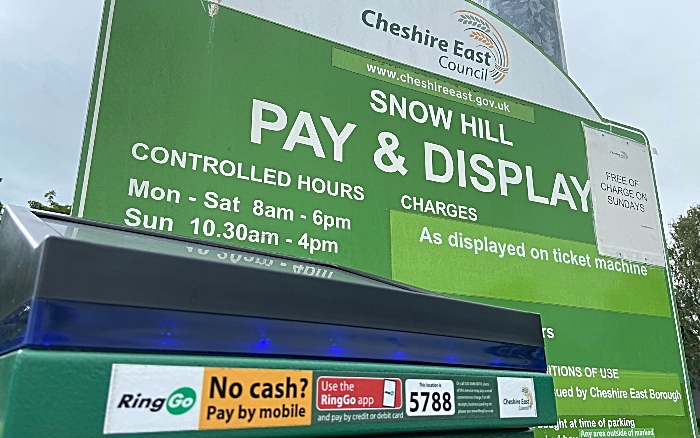 Dear Editor
Thank goodness Cheshire East Council, currently led by Cllr Sam Corcoran and his Labour/Independent Administration, has had a rethink!
Common sense has eventually prevailed allowing people to pay for their car parking with cash.
Cllr Corcoran & Co. have at last bowed down to public pressure.
Whatever were they thinking of instructing residents and visitors to pay with either a bank card or with RingGo on their mobile phones.
RingGo even attracted an extra fee on top of the parking charge for the privilege of using it.
When RingGo was introduced it was only ever meant to be an alternative way to pay if you found you had no available small change to feed the machines.
Recently Cheshire East residents and visitors to our towns have been voting with their feet and choosing not to park on car parks owned by the council.
The evidence was there for all to see, almost empty car parks have been the norm every day of the week.
Everything should have been back to normal on Monday 17th August when paying with cash for parking was restored, but that has not always been the case.
A resident has been in contact about the Snow Hill, Nantwich car parking machines telling me that, on Wednesday 19th August, one was broken and another only took bank cards and so she would not park up she went home.
Others visited the Bowling Club car park, again in Nantwich, on Friday 21st August and say that the car parking machine was not working.
On that occasion people were simply despairing of the situation leaving their cars anyway and walking off into the town centre.
It should not be too difficult to get these machines up and running, residents are fast losing even more patience with Cheshire East.
It is doing nothing to restore the reputation of Cllr Corcoran's administration.
On a further note it is about time that the review of car parking across Cheshire East was underway, we have been told that it is and now we are told that it is not and has been delayed because the Covid situation has held everything back.
The Covid situation seems to be the stock answer to lack of action on most things.
So Cllr Corcoran, we have had plenty of online meetings recently and I see no reason why a 'virtual' working group cannot be organised to begin to undertake this task.
Councillors from all Political Groups are unhappy with the unfairness within our borough where some towns and not others bear the burden of raising money to swell the council coffers with the income that comes from car parking charges.
It is about time that this was sorted out once and for all.
Yours,
Margaret Simon
Cheshire East Councillor for Wistaston Ward