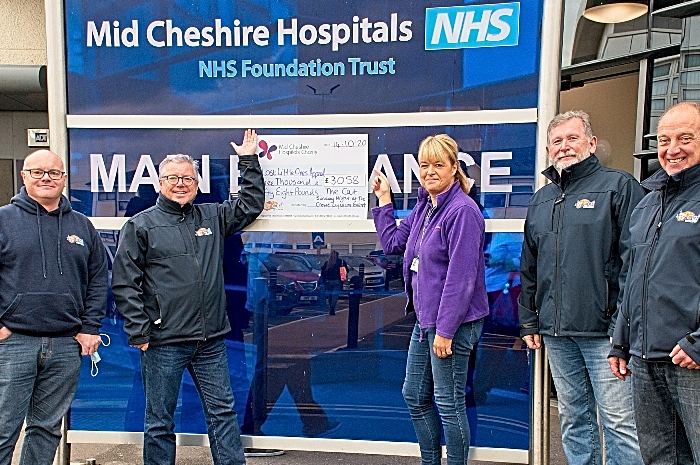 Crewe & Nantwich community radio station The Cat FM has presented £3,058 to Mid Cheshire Hospitals Charity for their Lost Little Ones baby bereavement suite appeal, writes Jonathan White.
The money was raised at a "Sunday Night at the Lyceum" variety show organised by The Cat.
The event, featuring singing, dancing and comedy, took place at Crewe Lyceum Theatre back in February.
The show featured performers including a routine from Fraser School of Irish Dance; super group (Callum Wright, Oli Ng, Megan Lee); poet Helen Kay with Nigella; and Nightingale Choir.
Crewe Amateur Musicals Society presented extracts from their performance of Joseph and the Amazing Technicolor Dreamcoat.
Crewe Lions under 9s football squad, local Battle of the Bands winner Cathy Jain, Nantwich Concert Band, Matrix Dance Squad, and writer-voicer-producer Buzz Hawkins with 'The Bradshaws' all performed with a finale from William Spencer (Cheshire Buddies Scheme).
Twichy, The Cat 107.9 FM mascot, joined in at every opportunity.
Carole Salmon, Community Fundraiser, Mid Cheshire Hospitals Charity, said: "The event was awesome.
"I was delighted to be able to attend and enjoy all the fantastic acts.
"The money raised boosted our Lost Little Ones appeal total.
"The project will support local families going through baby loss.
"A massive thank you to everyone involved especially all the team at The Cat."
Chris Cadman, Managing Director, The Cat community radio, said: "This memorable night was a wonderful opportunity for The Cat 107.9 FM to bring a wealth of local talent along with the nationally acclaimed Buzz Hawkins and 'The Bradshaws' to the stage of the theatre in support of this latest Mid Cheshire Hospitals fundraiser.
"The local support was amazing so a big thank you to everyone who joined us on the night.
"With 100% of the ticket receipts going to the appeal, the team at The Cat also want to say a huge thank you to the sponsors and performers, in addition to Adam Knight and his team at the Lyceum Theatre, for their fantastic support and generosity."
The sponsors of the evening were Chromalloy, 1825 Financial Planning, Alextra Accountants, Amplify, Brightstar, Construction Linx, Howard Worth chartered accountants & advisers, Optimum Pay Group, Rhino Safety, Right at Home South Cheshire, Innovation Relief, Paper Anchor and AJB Repro.