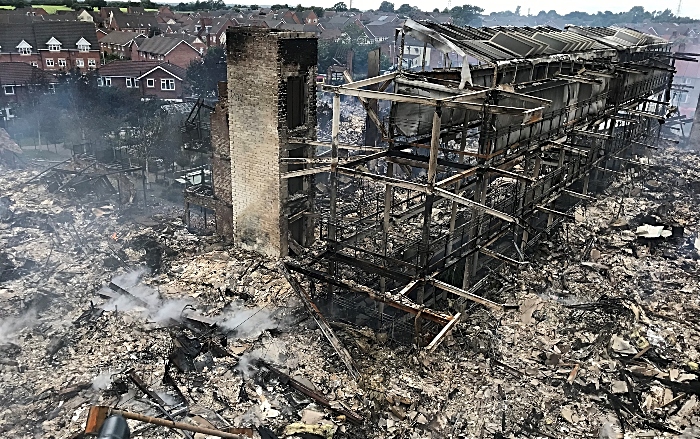 A replacement for the fire-destroyed Beechmere Care Facility in Crewe has been approved by Cheshire East councillors.
Members granted planning permission for the new building, which will sit on the same site with the same 132 bedrooms, and a number of fire safety improvements compared to its predecessor.
These include an integrated sprinkler system, more compartmentalisation so fires cannot spread as quickly, wider corridors for faster evacuation of residents, and increased masonry construction as opposed to the old building's timber.
At the meeting, Crewe East representative Cllr Hazel Faddes said: "We were devastated by last year, and there is a shortage of suitable, secure accommodation for older generations.
"The inclusion of fire sprinklers and masonry will be big improvements to the original building.
"I welcome this planning application and its stringent fire safety measures. I hope it progresses as quickly as possible."
No residents were injured in last year's fire, but many had treasured belongings and mementoes destroyed
Councillors attached a condition ensuring paths and footways around the site would be improved for accessibility purposes.
Juno Planning's Nigel Murray, representing developers Avantage, said work could begin relatively soon.
Cllr Sally Handley, Ward Councillor for Crewe St Barnabas, said: "I asked the Planning Committee to take into consideration the points made by Cheshire Fire and Rescue Service during consultation.
"It appears they have listened with one of the conditions of the successful application being the integration of a sprinkler system, which will be discussed further at the building regulation stage of the process.
"This is something I have worked on, alongside residents who formed their own pressure group for the implementation of sprinklers into public buildings, in the wake of the fire last year, I am delighted for them."
Cllr Laura Smith, who was MP at the time of the fire, said: "One of the biggest complaints that came up before what happened at Beechmere, was with regards to pavements and access outside and how accessible that was for wheelchair users; people who are frail.
"I would say that needs to be a key focus for all stakeholders, because it was brought up time and time again and I do actually believe that some elderly people did end up hurting themselves on the pavement outside.
"I would be interested to hear what will be done regarding this."
Crewe and Nantwich MP Dr Kieran Mullan also welcomed the development.
He said: "I know residents will be glad to hear plans for the site are moving forward.
"We need to make sure all buildings with vulnerable people in meet the highest possible safety standards. I am continuing to work with the All Party Fire Safety group to raise these issues in Parliament."
"A lot of residents still want answers about what happened, what caused the fire. I held a meeting with Cheshire Fire & Rescue Service earlier this month to discuss the fire.
"I am confident they are taking all the right steps they need to, having completed their investigation.
"The most important thing is that nothing is done to jeopardise any investigations or prosecutions.
"In the long run, making sure people are held to account is the most important thing."