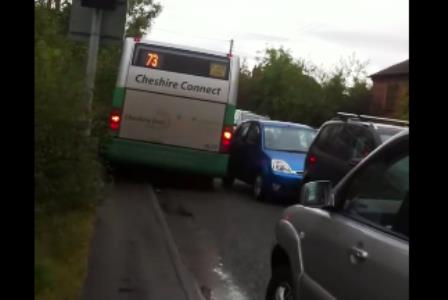 Nantwich residents can air their views on local transport and parking plans unveiled for the town.
The consultations, which end on 31 January, seek the views of people, communities, elected members and other stakeholders.
More than 2,500 responses have been received so far on local transport plan delivery and parking – but there is still time to have your say.
For Nantwich, five objectives have been identified by CEC to improve access to the town centre, improve key routes to Crewe/Chester/Stoke, boost access for rural communities to towns, boost access to education centres, and improve network to development sites.
Improving transport access to the town centre includes:
– Public realm improvements on Beam Street, including widening and updating pavements, improving signage within the town centre and providing links to the Bus Station and Connect 2 cycle route.
– Limit parking on Welsh Row e.g. permit parking for residents. Introduce parking restrictions on Taylor Drive double yellow lines.
Increase short stay car park capacity within Nantwich town centre.
– Various walking and cycle route improvements including: Waterlode, Station Road, Pratchetts Row, Hospital Street, Prince Edward Street, Wellington Road to increase connectivity to Peter Destapleigh Way, between Nantwich Lake, Nantwich canal and the town centre
– Cycling parking facilities at Snow Hill Car Park and other locations across the town centre, including leisure facilities.
– Bus station improvements on Beam Street, including providing onward travel details and improved waiting areas.
– Improve traffic flow on the A51 to ease congestion at Alvaston (A51/A530), Peacock (A51/A534) and Cheerbrook (A51/A500) roundabouts.
Improving access on key routes to Crewe, Chester and the Potteries includes:
– Improve traffic flow on A51 to ease congestion at Alvaston, Peacock and Cheerbrook roundabouts.
– Burford Crossroads improvements (A51)
– Dualling A500 between M6 Junction 16 and the A531 and B5472 at Meremoor Moss Roundabout.
– Reducing impact of A51 traffic flows on residents in Alpraham and Calveley.
– Junction improvement at Wrexham Road/Monks Lane.
– Improving drainage on A51 and stabilising embankment
– Improvements to A51 London Road to ease traffic and congestion
– Improve rail services from Nantwich to Crewe and Whitchurch.
– Extending Connect 2 route to Leighton Hospital and Bentley Motors.
– Improving A534 route including improving crossing points at the Peacock Roundabout.
– Re-establish bus network as part of recovery from the Coronavirus pandemic and review services to Crewe, Chester, Whitchurch and the Potteries.
Boosting access for rural communities to employment centres, such as Nantwich town centre, includes:
– Surface improvements to Public Right of Way (PRoW) Bridleway BR6 near Stapeley Broad Lane C of E Primary School.
– New roadside pavement from Stapeley to the Pear Tree Field junction.
– Footpath and/or improve canal towpath between Calveley and Wardle.
– Walking and cycling link along disused railway between Nantwich and Audlem (study needed and consideration of land ownership).
– Improved pedestrian footways on Whitchurch Road across the canal.
– Route between Acton to Nantwich (preferred route to be identified).
– Kingsbourne to Canal footpath improvement.
– Improving footpath along Marsh Lane (as part of the Crewe and Nantwich Circular walking route).
– Footpath along Cuckoo Lane as identified in the Acton, Edleston and Henhull Neighbourhood Plan.
– Assess public rights of way network in rural areas like Newhall Parish, to provide links between parish and local service centres.
– Extend existing Bunbury footpath network to create local circular routes.
– Improve existing public rights of way routes across Wrenbury.
– Improved passenger transport where feasible to services in Nantwich or Whitchurch for rural areas surrounding Nantwich, including Bunbury, Wrenbury and Audlem.
– Address parking and congestion issues on School Lane and village centre of Bunbury.
– Working with Transport for the North to develop longer term improvements for the A51 corridor.
Supporting access to education and employment sites, such as Reaseheath College, includes:
– Footpath for pedestrians and improving the cycle route into Alvaston Business Park.
– Improving safety at London Road level crossing.
– Improve rail connections to Crewe and Whitchurch.
– Improve bus connections to Leighton Hospital.
– Improve cycling facilities and connections to Leighton Hospital, Bentley Motors and Crewe town centre by extending Connect 2 route.
– Improvement of cycle facilities along the A534.
– Cycle route along A51 Nantwich Bypass between Connect 2 route at A530 roundabout and Barony Road roundabout, and continuation of route to join Wettenhall Road
– Improve pedestrian access to Malbank School.
– Encourage schools to register with Modeshift STARS and implement School Travel Plans and engage with the Sustainable Modes of Travel to School programme to improve routes.
Strengthening transport network to development sites, such as LPS 46 Kingsley Fields, includes:
– Increased capacity on A51 at Burford Crossroads improvements (A51) to ease congestion
– Improve traffic flow on A51 to ease congestion at Alvaston (A51/A530), Peacock (A51/A534) and Cheerbrook (A51/A500) roundabouts
– A new link road to connect the A51 and A534 Waterlode, supporting LPS46 at Kingsley Fields, including realignment of the A51.
– Reduce congestion and queuing at A530 Welsh Row and A534 Waterlode junction in peak hours.
– Cycle route alongside A51 Nantwich Bypass between the Connect 2 route at the A530 roundabout and Barony Road roundabout, and continuation of route to join Wettenhall Road.
Cheshire East says consultation responses will help shape these ideas for transport, walking and cycling.
They will also inform proposals, subject to further consultation, on car parking provision and changes to car parking charges.
Cllr Craig Browne, deputy leader of Cheshire East Council, said: "Alongside these proposals, we are also developing town centre vitality plans for our key urban hubs, helping us to better understand and respond to local needs.
"We also need to consider the potential longer-term impacts of Covid-19.
"This may include using our public spaces differently to enable social distancing, more reliance on active travel, as well as increased home working."
Councillor Laura Crane, Cheshire East Council cabinet member for highways and waste, said: "This parking consultation, alongside the development of town vitality plans, aims to engage with all stakeholders to ensure we have a broad strategy for the next five years that considers the economic, environmental and community elements that car parking brings.
"So, I would encourage people to take just a few minutes to fill in the online questionnaire and share their views."
To find out more and take part in the consultations, visit the council's web page at: www.cheshireeast.gov.uk/LocalTransportEngagement
You can obtain a paper version of the plan by calling CEC customer services team on 0300 123 5500.
Views should be submitted by January 31 by completing the short survey or emailing [email protected]