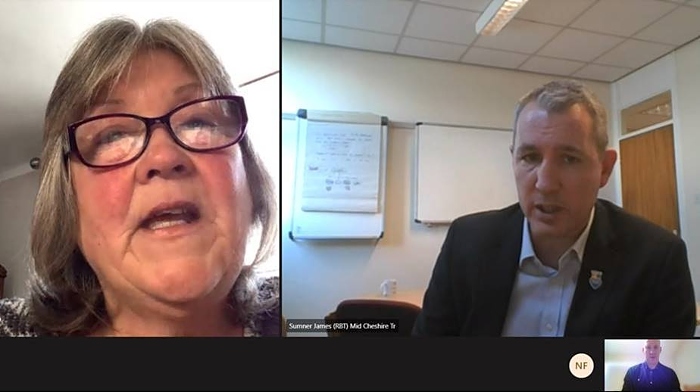 An epilepsy charity founder has teamed up with her MP and a hospital boss to raise awareness of the condition.
Wendy Shaw met remotely with Crewe and Nantwich MP, Dr Kieran Mullan and Leighton Hospital Chief Executive James Sumner.
She wanted to discuss issues around epilepsy risks and of Sudden Unexpected Death in Epilepsy, known as SUDEP.
Wendy set up the Jon Shaw Foundation last year in honour of her late son, Jon, who died as a result of SUDEP in 2019.
As well as aiming to raise awareness of SUDEP, the Jon Shaw Foundation aims to provide financial support for equipment to help young people living with epilepsy to manage their seizures and to support bereaved siblings.
Wendy said: "I set up our charity Jon Shaw Foundation after my son died suddenly in June 2019.
"Aside from the trauma of losing a child suddenly through epilepsy, I also found that his brother's grief was generally overlooked.
"I didn't want Jon to have died for nothing, I wanted his name to continue so worked hard to get the charity registered in April 2020.
"It was a great opportunity to talk to James, I think I was able to give them an insight into the trauma of losing a child so suddenly and unexpectedly, James was very positive in the support he could offer to help us achieve our aims.
"I believe that as a result of our meeting we will be able to reach out and support more families who may need us, and I am hopeful that he will support information sharing between clinicians and patients."
Dr Mullan said: "It was incredibly important to give Wendy a chance to discuss this issue with James to see how we can better to address the issue of SUDEP.
"After meeting with Wendy last year and hearing about her experiences, and I have been interested to find out what current work being done on the NHS about this and I think we can do more.
"Epilepsy can have a major impact on a person's quality of everyday life and be a real struggle to live with.
"Sudden unexplained death in epilepsy (SUDEP) has affected so many people and families in the UK and I am pleased that action is being taken to raise awareness of this important issue."