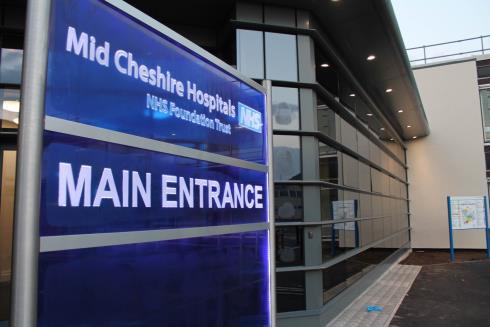 The number of Covid-19 patients in Cheshire's hospitals continues to fall, according to the latest NHS England data, writes Ethan Davies.
Mid Cheshire Hospitals Trust was caring for 44 coronavirus patients in Leighton Hospital as of Tuesday (March 9).
This was down from 66 on the same day the previous week.
The number of beds at Mid Cheshire Hospitals NHS Foundation Trust occupied by people who tested positive for Covid-19 decreased by 68% in the last four weeks – 28 days ago, there were 137.
Across the Mid Cheshire, East Cheshire, and Countess of Chester NHS Trusts, data to March 9 shows that 102 patients were being cared for — a fall of nearly 25% compared to a week before.
On March 2, the trusts were caring for 135 people, and three weeks before that the figure was 345 — meaning admissions have fallen by 70% in a month.
This average is evenly spread across the three NHS organisations.
In East Cheshire facilities, 25 coronavirus patients were being cared for this week, the same number as seven days previously.
However, despite the weekly rate remain the same, the East Cheshire trust was the one to see the largest monthly fall — 76 per cent — as it was caring for 104 patients four weeks ago.
Countess Of Chester Hospital Trust, at one point the busiest in the north west, was caring for 33 coronavirus patients in hospital as of Tuesday — a decrease of 11 in a week.
Like East Cheshire, it was caring for 104 patients a month ago, and like Mid Cheshire, this represents a 68 per cent drop.
Across England there were 7,451 people in hospital with Covid as of March 9, with 16 per cent — 1,187 — of them in mechanical ventilation beds.
The number of Covid-19 patients hospitalised nationally has decreased by 66% in the last four weeks, while the number on mechanical ventilators has decreased by 59 per cent.