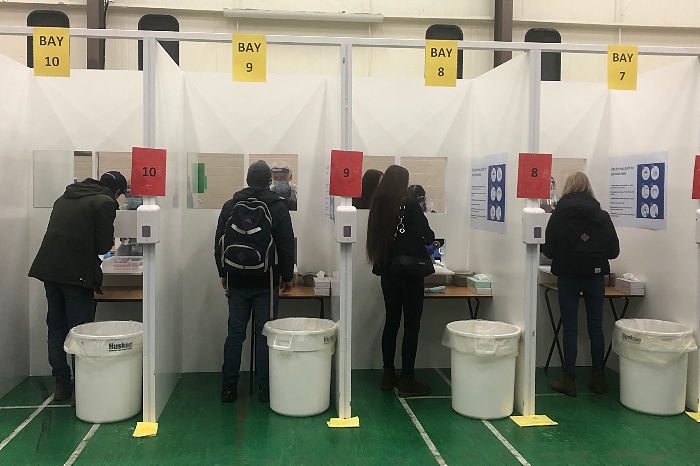 Students and essential visitors to Reaseheath College have praised measures in place to ensure a safe return to the Nantwich campus following the lifting of Covid-19 restrictions.
The college's rapid lateral flow test centre has been hailed for its operation, which has enabled face to face teaching to resume.
Almost 3,000 tests from students, staff and visiting professionals were processed through the centre last week, with no positive cases recorded.
Ten bays are used for self swabbing, with participants receiving test results by text from the NHS to their personal mobiles, usually within 30 minutes.
Q managed timetable has allowed teaching staff and individuals to pre-book time slots and teaching programmes have been rescheduled to allow students to access the service in their study bubbles.
Students were asked to repeat the flow test at college until the end of this week, and will now be provided with home testing kits.
The testing team are staff volunteers who have been through online and onsite training before taking up their roles, supported by members of Reaseheath's Student Association and by a 27-strong team from Nantwich Buddies, a community volunteer support network.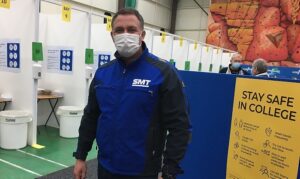 Principal Marcus Clinton said: "Complex and large scale planning went into ensuring our test centre was ready to process such a vast number of tests each day and our teams have done a fantastic job supporting our students and visitors through the process.
"I'd like to thank everyone for their efforts to help keep our campus safe and I'm particularly proud of the excellent way our students have conducted themselves when taking the tests.
"It's wonderful to have our students back on campus, where they belong, and able to access all the elements of their study they simply can't do on line."
Final year undergraduate Luci Newall, a member of the test centre support team, added: "It's been a good experience to see how the process works first-hand.
"As a student, it has given me a lot of reassurance that Reaseheath is doing everything possible to keep its community safe, and I've been able to pass that positive message on to other students."
Nearly 57 million lateral flow tests have been delivered to schools, colleges and universities as part of the government's plan to reopen educational institutions following lockdown.
Other safety measures which continue to be followed include regular hand washing or sanitising, face coverings being worn in classrooms and communal spaces and an adherence to social distancing.
See student views on the Covid testing process: