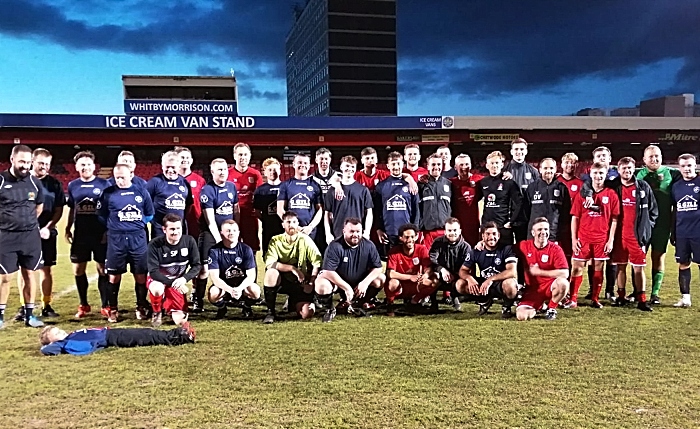 Calm 84 FC Crewe, a new charity football team in Crewe, have raised more than £850 in aid of cancer-hit young goalkeeper Ashton Hulme, writes Jonathan White.
It was their first fund-raising match and they played a Crewe Alexandra Coaches XI at the Alexandra Stadium behind closed doors due to government Covid restrictions.
An entertaining game saw the Coaches XI beat Calm 84 9-1, including a 30-yard chipped goal from Crewe Alex manager David Artell.
Crewe Alexandra Academy keeper Ashton had to have a leg amputated because of a rare bone cancer.
The Crewe Alexandra Coaches XI team consisted of: Jonny Barber, Kenny Lunt, Michael Jackson, Matthew Freeman, Aidan Callan, Joe Philips, David Artell, Rob Wilson, Tom Ryan, Joe Lynch, John Dillon, Alex Morris, David Vaughan, Ryan Dicker, Lee Bell, and Sam Pettitt.
The Calm 84 FC Crewe team consisted of: James Hiddleston, Callum Linsey Green, Adam Myers, Dave Windley, Fred Molyneaux, Ryan Hughes, Steve Jones, Lewis Ralphs, Adam Lowe, Lewis Broomhall, Steve Bell, Chris Broad, Josh Challinor, Carl Murphy, Rhys Holt, Mark Dunning, Billy Booth, Anthony Stanley, Matthew Tootle, and Kevin Street.
Their kit was donated by Crewe Athletic Football Club.
Photos from the match, by photographers Kevin Warburton and Gerard Austin, can be viewed via: https://www.kevinspictures.co.uk/Sport-Events/Football/Charity-Match-Calm-84-v-Crewe-Alexandra-Coaches/
Calm 84 FC Crewe will raise awareness and funds for CALM, a group against suicide.
Every week 125 people in the UK take their own lives and 75% of all UK suicides are male.
CALM provides a free, confidential helpline 0800 58 58 58; webchat (5pm-middnight, 365 days a year) staffed by trained professionals; bereavement support; a website with inspiring content; and campaigns tackling stereotypes of masculinity, suicide and mental health.
Calm 84 FC Crewe will host weekly training session at King George V playing fields in Crewe and aims to hold fixtures against fellow charity clubs every six to eight weeks.
Mark, manager of Calm 84 FC Crewe, said: "Thank you to all the coaches – especially Aidan Callan who helped us organise the game – for having a game with us in what was a truly memorable evening for everybody involved with Calm 84.
"So far, we have raised £852.50 for Ashton Hulme which we hope will still increase.
"Unfortunately, Ashton couldn't attend but all the effort from everyone was for that very special little boy."
For further information relating to Calm 84 FC Crewe visit https://www.facebook.com/Calm84FCCrewe and https://www.calm84.co.uk/