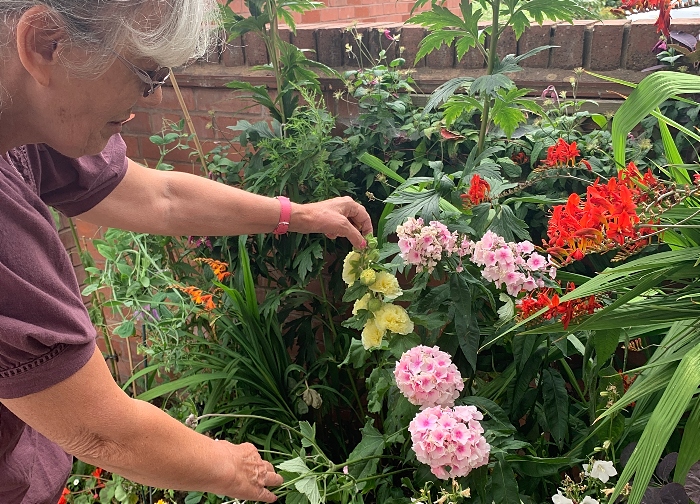 Residents in one part of Nantwich are celebrating the colourful achievements of a pensioner who has made a big difference.
Jenny Brown, 72, moved to the Mansion Gardens area 14 years ago.
And ever since then she has been buying, planting and tending to all flowers and plants which have brought a splash of colour to her neighbourhood.
She said: "When I first bought the flat, it was a new estate.
"We get gardeners that come once a fortnight and they chop hedges down and things like that, but in the 14 years that I've been here they've never once put a plant in."
Jenny has dedicated her time to looking after the flowers – and there has been no exception during the COVID-19 pandemic.
She said: "It was handy living here in the lockdowns because it's a courtyard, so I did get to speak to people and there'd be people out there to talk to.
"The gardening also helped me through it and I liked gardening before, but I think I did it more because I was here all the time and wasn't going out."
Jenny doesn't let her Fibromyalgia condition deter her, despite the long-term condition causing pain all over the body.
For her, watering the flowers each day keeps her active and she does "30 minutes of exercise at a time".
She said: "If I had a massive house with a big garden I probably wouldn't be able to keep on top of it, but pottering at my age – I love it."
Her work has been recognised by neighbours also living in Mansion Gardens, where houses and flats are both bought and rented.
"I think this (her work) needs to be recognised and shared how beautiful the estate is!" said Anne Fletcher, one of Jenny Brown's neighbours.
She added: "Jenny has done an amazing job to brighten up where we all live."
You can see the flowers when walking around the Mansion Gardens estate in Nantwich, off London Road.