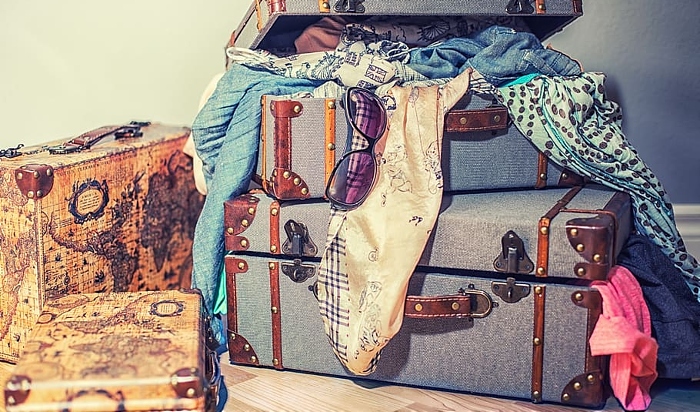 Travelling with family is stressful in and of itself, but when you have to pack for each member, things can spiral out of control!
Fortunately, there are a few smart and savvy ways that you can keep your sanity while ensuring everyone has their belongings for the trip.
1. Don't Rely On Single Luggage
One of the biggest mistakes you can make is letting each family member have their own suitcase.
In the off chance the case is lost, it would mean someone doesn't have clothes or toiletries.
A better alternative is to pack the belongings of every family member within each case spread out equally.
This way, everyone will have a set of clothes if something goes awry.
2. Label Your Luggage
Make sure that all of your luggage is properly labeled with your personal contact details.
This way, if it goes missing, the proper authorities will have a way to get in touch with you.
3. Don't Overpack
We're all guilty of wasting precious luggage space by overpacking.
Cut in half the pile on your bed of things you will think you need.
Chances are, most of the items laid out are not a necessity.
Plus, many hotels do have a laundry facility where you can freshen up your clothes.
4. Let Young Kids Help
Everything does take longer when little kids are involved, and that does include the packing and planning process.
However, make sure you let little ones pack a backpack or small travel bag with their favorite toys or activities.
Letting them participate by bringing colored pencils and a coloring book or a favorite action figure will make them feel a part of the process completely.
5. Know Luggage Guidelines Before Boarding
Know what your airline's guidelines are in terms of weight and size restrictions for luggage.
Having an understanding of this before reaching the check-in point will ensure you're not stuck paying hefty fines.
Most airlines charge a good deal of money for being slightly over the weight limit, and in some instances, you may have to leave certain things behind.
Fancy staying close to home? Here are some fantastic UK staycation ideas.
6. Remain Organized
Perhaps the easiest way to keep your sanity during your travels is to organize everything in your luggage into packing cubes.
These zippered cases allow you to categorically put away the things you need access to and they maximize luggage space and reduce stress.
They also offer a buffer zone against potential damage to your belongings, which is especially true if your case accidentally opens or gets searched.
7. Make Room For Souvenirs
You've taken out the extras you probably won't need for your trip, but do make sure to leave some empty space for souvenirs.
Chances are that you're going to a fun and exotic place, and that means you have an opportunity to go shopping to bring back home gifts and mementos.
Make space in your luggage that you can fill up with items from your trip.
8. Keep Emergency Clothes For Kids On Hand
Whether you're traveling with a toddler or a baby, it's important to have extra clothes and accessories for your child on hand.
Pack a small travel bag with a change of clothes, diapers or anything else that you may need.
This ensures that you have access to everything you need, even on the plane!
9. Pack Your Accessories
Since you won't have as many clothes as you want available for your trip, you can bring small accessories such as jewelry or scarves.
They can help transform any outfit you've worn before into something new and unique.
Plus, these items will hardly take up any weight or space.
10. Separate Daily Clothes
Pack clothes for each day separately in a Ziploc bag.
This not only ensures that you can simply reach into your luggage and pull out clothes for that day, but it also allows you to put your dirty laundry away.
When you're done wearing an outfit, simply seal it back into the bag!
(Free licence image courtesy of pxfuel)