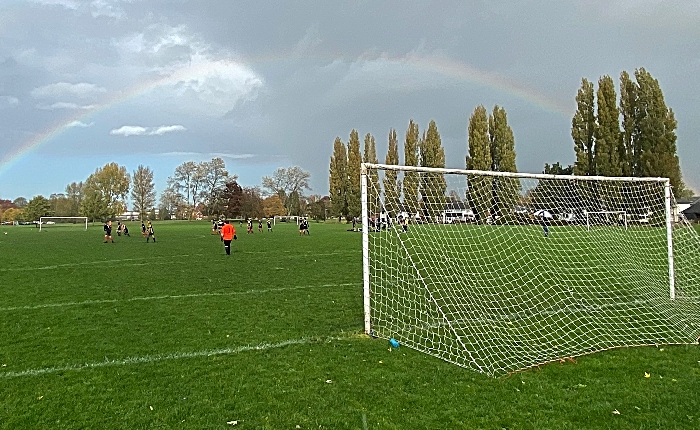 Broadhurst FC are the new leaders of Crewe Regional League Premier Division following a 7-2 win over Raven Salvador.
Dom Johnson and Tom Hassall both scored twice with other goals from Adam Ireland, Scott Ravenscroft and Steven Jenyons.
Tom Glover and Jordan Smith scored for Raven Salvador.
Betley FC won 4-1 at Faddiley with goals from Keiran Duckers, Josh Briggs, Zac Saardouni and an own goal.
Rich Ryan scored for Faddiley.
A flurry of goals just before half-time saw Cheshire Cheese open up a 2-1 lead over Willaston WS which they held on for the win.
Scorers for Cheshire Cheese were Alex Forrester and Aaron Davies with Pawel Abramowicz scoring for Willaston WS.
Talbot FC and NHB FC drew 1-1 with Danny Jones scoring for Talbot and Alex Ball for NHB FC.
In Division One, both Winsford Over 3 and Sandbach Town took advantage of results elsewhere to move up the table.
Winsford Over 3 won 6-3 at C & N UTD with a hat-trick from Thomas Stanton and other goals from Jamie Dawson, Will Igoe and Matthew Stanton.
Scorers for C & N UTD were Rhys Bennett and 2 goals from Jack Cope including a great strike from the halfway line.
Sandbach Town beat Leighton 4-2 to move above their opponents in the table.
Lewis Barker 2, Jamie Knowlson and Lewis Renshaw scored for Sandbach ataown with Ryan Ollier and Brad Griffiths replying for a Leighton FC.
White Horse won 5-1 against Nantwich Pirates with Tom Royle scoring 4 times with Mike White also scoring. Joey Hilton replied for the Pirates.
Several teams were involved in the Cheshire FA Sunday Cup with Willaston WS and Nantwich Pirates receiving walkovers to the next round.
George & Dragon won 2-1 at Wirral based JASGA FC whilst JS Bailey lost 6-1 at another Wirral based side PLCC FC.
Audlem lost a close game 4-3 at FC Dukinfield.