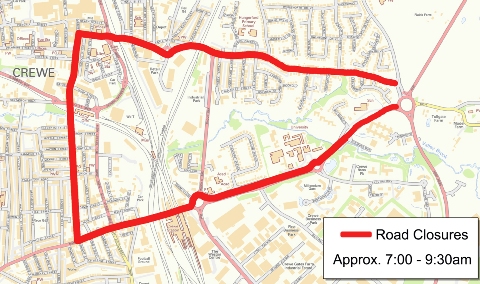 Thousands of Crewe and Nantwich people will be hit by road closures and delays when the Olympic Torch comes to South Cheshire.
Majorroutes in and out of Crewe will be closed during peak morning traffic when the Olympic Torch Relay arrives on Thursday May 31.
People who drive to work, use the railway station or on the school or college run are being warned to prepare for major delays between 7am and 9.30am that day.
Cheshire East Council and Cheshire Police say they are closing roads where the Olympic Flame is being carried to protect the public.
A council spokesman admitted: "The road closures are likely to cause significant traffic disruption and residents are being advised to allow plenty of time for their journeys during the morning."
Thousands are expected to travel into Crewe to watch the relay, and people are asked to walk or cycle in where possible.
Public transport will be disrupted and access to Crewe railway station will be affected, the council warned.
Roads to be closed between 7am-9.30am include Hungerford Road, A532 Macon Way, A532 Vernon Way, A532 Earle Street, Market Street, A5078 Edleston Road, A534 Nantwich Road, and A534 Crewe Green Road.
Leaflets and maps will be sent to all homes and businesses along roads to be closed.
Roads will remain closed after the torch has passed to accommodate various events planned along the route and for road cleaning.
Cllr Rod Menlove, Cabinet member with responsibility for environmental services, said: "The Olympic Torch Relay is a unique event and we want as many Cheshire East residents as possible to come out and see the flame.
"We are closing the roads for the safety of both participants and spectators and we will do our utmost to reduce the disruption by reopening the roads as soon as it is safe to do so."
All the information, including a map of road closures, is available to view online at: www.cheshireeast.gov.uk/2012