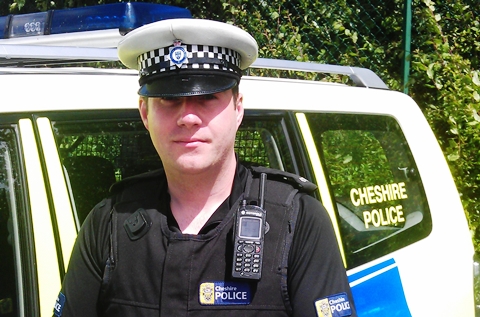 A Cheshire police officer has been seconded to a key role policing London's Underground and rail networks during the Olympic Games.
PC Anthony Hayhurst, 35, from Nantwich, will be working with the British Transport Police in the capital.
He is usually found policing and investigating road traffic collisions in the Crewe and Nantwich area.
Now he is busy memorising the complex Underground network and main rail lines around London as part of his Olympic role.
Tony said: "It's a once in a lifetime opportunity to police London and be part of policing one of the biggest sporting events that the UK has ever seen.
"I will be dealing with all sorts of different policing incidents, and am sure that some of those incidents may be quite challenging and in unfamiliar surroundings."
He policed the Olympic Torch Relay in Crewe and Warrington in May and was surprised to see such a large turn out.
"The relay passed through Crewe at about 8am, and Nantwich Road was packed with members of the public, with crowds about 15 people deep. The atmosphere was fantastic," he added.
Tony has worked at big sporting events including football matches at Manchester City and Manchester United, at the Commonwealth Games in Manchester in 2002, and large scale operations such as RAF Fairfield in Gloucestershire during the Iraq War.
He will be blogging his activities from London and there will be an opportunity to follow blog posts from officers supporting the Olympic Games and those providing policing cover in Cheshire.
All blog diaries can be followed from July 27 to August 13 at www.cheshire.police.uk/get-involved/olympic-blog.aspx