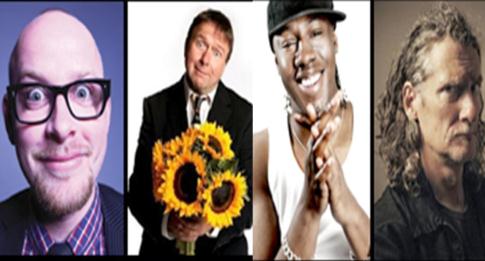 Another clutch of entertainers gave comedy fans a night to remember at Nantwich Civic Hall.
The latest "Very Best in Stand Up" presented a stunningly diverse range of acts, fabulously linked by host and compere Dan Nightingale.
But it was opening act Steve Gribbin who perhaps made the biggest impact with the packed house.
The guitar-wielding genius from Liverpool produced a classic array of satirical tunes and lyrics which lampooned so many of the topical news stories of recent weeks.
His musical commentary spanned subjects as  diverse as the Pope, Oscar Pistorius, horsemeat and gay marriage.
And it's that ability to create fresh material for every live show that makes him a stand-out act in the stand-up industry.
Always edgy, bordering on obscene, the audience took each song in the tongue-in-cheek manner intended and howled with laughter.
It proved a tough act for London comedian Nathan Caton to follow.
Relative newcomer Caton gave a good account of himself and his anecdotal style of delivery certainly worked for some of his material on an audience that isn't always easy to please.
And with TV plaudits already to his name, his stock in the live show arena is sure to grow.
In contrast, final act Dave Fulton has been there, seen it and bought the proverbial t-shirt.
The American has performed across the globe, and is clearly not afraid to poke fun at the quirks and sensibilities of different nations.
And his wry observations of the British certainly made some punters belly-laugh in recognition, even if a few failed to see the funny side.
All in all, another classic cocktail of humour which provided the perfect way to unwind at the end of a working week.
Roll on the next show on April 5.