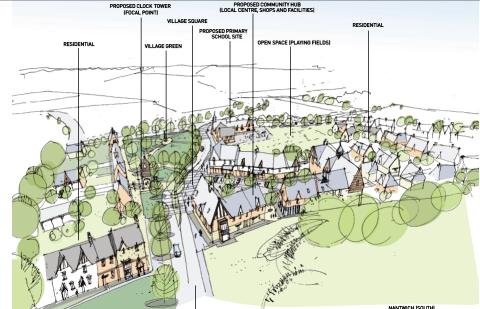 Planners say developer Muller Property's first phase of a 1,100-home "Nantwich South" village should be refused.
Muller's initial application is for 189 homes and access road into the site between Peter Destapleigh Way, Broad Lane and London Road.
It is due to come before Cheshire East Council's Strategic Planning Board next week (April 3)
But advance documents show that planning officers are recommending the proposals be rejected by councillors on grounds of impact on the landscape and loss of trees and agricultural land.
It will come as a relief to campaigners such as the Protect Stapeley who submitted a 1,700-name petition against the plans.
Campaigners have also been supported by MP Edward Timpson and local ward councillors Andrew Martin and Peter Groves.
However, the  report may raise some concerns as it suggests the application is acceptable, with conditions attached, on grounds of highways, public amenities and primary school places.
The report to councillors states: "The proposed residential development is unsustainable because it is located within the Open Countryside.
"The applicant has failed to demonstrate that the proposal will not result in loss of the best and most versatile agricultural land.
"The scheme as presented will result in an immediate loss of trees that contribute significantly to the amenity and landscape character of the area and that the proposed indicative mitigation measures for this loss do not satisfactorily establish the benefits required by local and national policy.
"Following the successful negotiation of a suitable Section 106 package, the proposed development would provide adequate public open space, highways improvements, level crossing mitigation, the necessary affordable housing requirements and provision of primary school education.
"The proposal is considered to be acceptable in terms of its impact upon residential amenity, ecology, drainage/flooding and it therefore complies with the relevant local plan policy requirements for residential environments."
The Strategic Planning Board sits next Wednesday April 3 at 10.30am at the Municipal Buildings in Crewe.
Ward councillors, parish and town councillors, members of campaign groups and Civic Society, objectors, supporters and the applicants will have a chance to air their views at the start of the meeting.