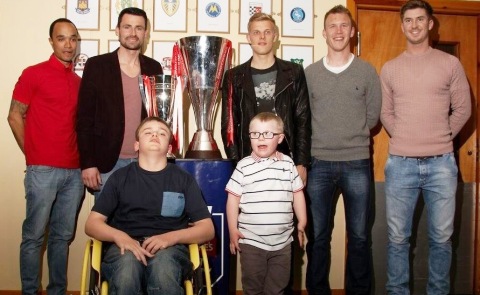 A Nantwich pub is to stage a fund-raising quiz spearheaded by Crewe Alexandra's keeper Steve Phillips.
And Crewe's Wembley heroes could be brought down to earth with a bump as they get auctioned off as part of the event!
The Peacock in Willaston is staging the quiz with a difference on April 24, to help raise vital funds for Caudwell Children.
And Steve said several first team players will be there on the night to join in as they are auctioned off.
Steve told Nantwichnews: "Six or seven of the lads and hopefully the boss will come along.
"Rather than have our own quiz team, thought it would be more fun to auction them off into other teams.
"And I'm sure the player who goes for the least amount will get a bit of stick from the rest of us. I just hope it's not me!"
Steve, who kept goal in Crewe's Johnstone Paint Trophy final victory at Wembley, got involved with the charity after it helped to provide his friend's disabled son with a wheelchair.
"It's given Alex a new lease of life, allowing him to play sport and get out and about," added Steve, a dad of two young children.
"It's an astonishing organisation, helping disabled and very ill children as well. And I've seen first-hand the difference it can make. When it's children involved, it really moves you."
One of the organisers helping Steve with this and previous fund-raising events is Scott Kynnersley, a member of the Crewe ASI ( Crewe Alex Supporters Initiative)
"We had the Crewe ASI awards night at the club on Saturday, and raised over £2,500,"  Steve said.
"We sold off Crewe memorabilia from the final, and items like Nick Powell's boots. And we had the youngsters from Caudwell there, it was a great night.
"Scott has been a huge help and has done a lot of the work for this."
There will be more Crewe Alex items and signed sports memorabilia to be raffled off at The Peacock, as well as a Cask Ale package.
The event takes place next Wednesday April 24, with Crewe players there from 8.15pm and the quiz starting at 9pm.
(Pic: Alex and Adam, Caudwell Children Trust patrons, with Crewe Alex stars Byron Moore, Steve Phillips, Harry Davis, Mark Ellis and Luke Murphy)