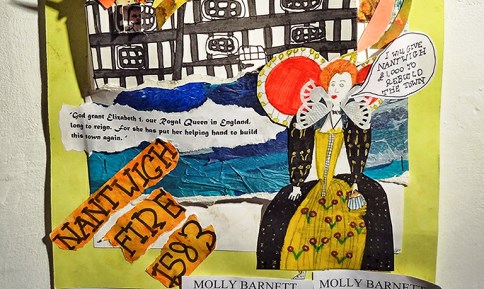 Nantwich youngsters were rewarded for their creative side after impressing in a local art competition.
Children from schools across the town entered the competition run by Nantwich Museum, on Pillory Street.
And Crewe & Nantwich MP Edward Timpson was on hand to present the prizes and certificates.
A lot of the work is now on display at the museum as Nantwich's finest young artists show off their amazing talents.
And the winner of Year 3 and the overall winner was Molly Barnett, a pupil at Acton Church of England Primary School, with her Fire of Nantwich 1583 picture.
All the prize winners are as follows:
Harvey Holt, Reception Winner Sound and District; Kirsten Sayers, Year 1 Winner Acton; Akira Taylor-Vyse, Year 2 Winner Acton; Molly Barnett, Year 3 Winner Acton; Alice Ford, Year 4 Winner Acton; Jack Edwards, Year 5 Winner Acton; Olivia McGhie, Year 6 Winner Wyche.
School Winners were Lizzy Ruth Edwards, Audlem St James's; Olivia McGhie, Wyche; Tallulah Batley, Acton; Libbi Sykes, Stapeley Broad Lane; William West, Millfields; Ellie Luke, Highfields; and Freya Graham, Sound and District.
The competition, organised by the Rotary Club of Nantwich, was judged by two local artists.
"Historic Nantwich" was the theme and the artwork provided an interpretation of the history of the town and an impressive and informative exhibition with something of interest for everyone.
About 100 of the more than 300 pictures entered are on display at the museum until Saturday May 25.
Contact Nantwich Museum at [email protected], call 01270 627104, visit www.nantwichmuseum.org.uk