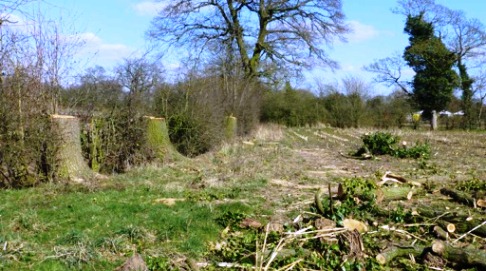 Councillors have "rejected" Muller Property's controversial bid for an access road to a planned 1,100-home "Nantwich South" village.
The access route off Peter de Stapleigh Way in Stapeley, was considered by Cheshire East Council's strategic planning board.
A decision on the application was deferred in April after mature trees on the site were chopped down just hours before it went before the committee.
Muller has appealed against that non-decision alongside an appeal against the refusal of its first phase plan for the 1,100-home Nantwich South development.
Today's (June 19) board was held to find out what decision councillors would have made on the access road if it had the power to determine the application.
And although council officers recommended "minded to approve", councillors rejected that and decided to be "minded to refuse".
This means the council now has to defend this "rejection" in the appeal case and at a probable public inquiry, a move welcomed by campaigners fighting Muller's plans.
Protect Stapeley campaigner Pat Cullen spoke against the application at today's hearing, alongside ward councillors Andrew Martin and Peter Groves.
"Today, the board was 'minded' to refuse Muller's road application despite the planning officer recommending 'minded to approve'," said Mr Cullen.
"There was much talk among SPB members of the disgusting act of vandalism in cutting down the trees and the need to send a message to all developers of the need to respect the planning process."
Cllr Martin said he was grateful for all the work residents have done in campaigning against the plans.