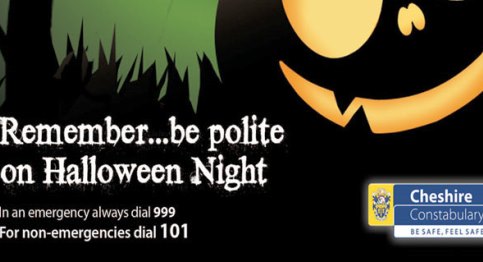 Police have warned youths in Nantwich they will crackdown on Halloween and Bonfire Night anti-social behaviour.
Extra officers will be on the streets over the next few days as the annual celebrations take place.
And they have vowed to deal "robustly" with anyone committing anti-social behaviour.
Insp Gareth Woods, Cheshire Police lead for anti-social behaviour, said: "We want to encourage victims of persistent anti-social behaviour to pick up the phone, and report it to the police, but to also be aware that there is support available and they do not have to feel isolated.
"Tackling anti-social behaviour is a year-long priority, but its prominence increases in the days around Halloween and Bonfire Night.
"It is important that parents, schools and the police play our parts in teaching young people to respect that trick or treating is not fun for everyone, in particular for vulnerable people who find it frightening to answer the door after dark."
Any residents who do not want to be bothered by "trick or treaters"  can display a posters.
A green poster means it's okay to knock, the red poster means no.
Both posters are available to download from the Cheshire Police website.
Meanwhile, retailers are being warned not to sell fireworks or alcohol under 18s in the lead up to Bonfire Night.
Trading standards officers from Cheshire East Council's are working with underage volunteers to carry out spot checks across Cheshire East.
Cllr Les Gilbert, Cabinet member in charge of communities and regulatory services, said: "Retailers should be diligent in determining the age of purchasers and proof of age should always be asked for.
"Penalties for selling to underage people can result in prosecution and a fine of up to £5,000. A prison sentence of up to six months also cannot be ruled out.
"I would also urge businesses to be aware of 'proxy buying', where a person over 18 buys alcohol for someone underage.
"Please be extra vigilant that this could be taking place right outside your store. It is also an offence to 'proxy purchase' and those doing so will be punished."
Last year, fireworks test purchases were carried out at 32 outlets, with all showing a clean bill of health. However, some were found to be selling alcohol.
Retailers must display a sign where fireworks are supplied or exposed stating it is illegal to sell adult fireworks or sparklers to anyone under 18, or possess fireworks in a public place.
Anyone who suspects someone of selling illegal or counterfeit fireworks should call Citizens Advice Consumer Service on 08454 04 05 06.