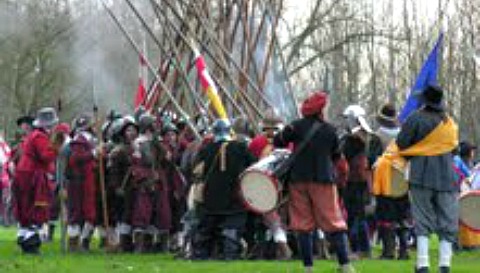 Nantwich Museum is planning a series of events to help celebrate Holly Holy Day in the town on January 25.
The venue has lined up speakers and exhibitions to commemorate the 370th anniversary of the Battle of Nantwich.
Nantwich was under siege from Royalist forces back in 1644 which resulted in Parliamentarian forces led by Sir William Brereton and Sir Thomas Fairfax to rout the Royalists.
Nantwich people celebrated by wearing sprigs of holly in their hats – hence Holly Holy Day.
The first event at the Pillory Street museum is on Saturday January 11. Neil Tew, a member of Crewe & Nantwich Wargame Club, will be exhibiting his wargame table.
On January 18, there will be two specialist talks dealing with the background to the Civil War and the battle itself.
Professor Ann Hughes, of Keele University, will be speaking on Nantwich, Ireland and the British Civil Wars at 11.30am.
Then at 2pm Dr Ian Atherton, senior lecturer in history at Keele University, will speak on The Battle of Nantwich.
Both talks are scheduled to last 90 minutes.
Tickets are £4 per talk or £6 for both talks (museum members £3 per talk, £5 for both talks).
On Holly Holy Day January 25, at 10.15am and 11.30am there will be Civil War Tours of the town starting at the museum and costing £2 per person.
Between 10.30am and 11.30am members of the Sealed Knot Society will lead a Musketry Demonstration at the museum.
From 11am until 3pm, there will be events for children.
Contact Nantwich Museum on [email protected], 01270 627104, visit www.nantwichmuseum.org.uk